Once upon a time, there was a girl named Megan. Her two favorite things in the entire world were design and storytelling. One day, while Megan was designing her own wedding stationery, her dad caught a glimpse of her work. He told her that her design skills were good enough to sell. Megan always remembered his kind words. So when she was looking for a way to make some money before college graduation, she remembered his encouraging words, and decided to fuse together her love of design and storytelling to open a stationery and paper goods company. Megan began reaching out to engaged students at her university to see if they would be interested in hiring her to design their wedding invitations. Before she knew it, her design company that was born in a student design studio had evolved into a full time job and MaeMae Paperie was born.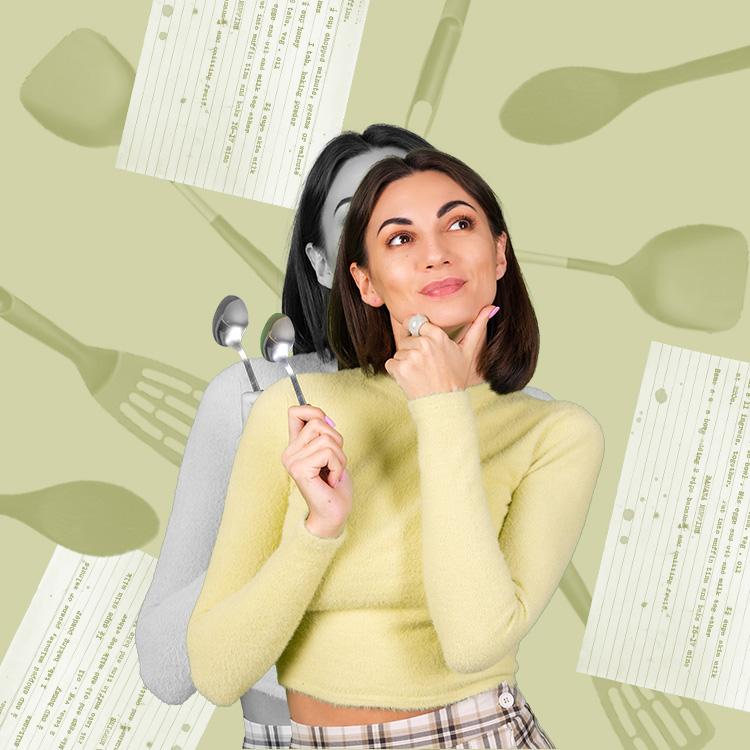 high in protein, good for gut health, and anti-inflammatory? yes, please!
Okay, so Megan Gonzalez doesn't live in a fairytale. But she does love storytelling, and is quite the businesswoman. As the owner and head designer of the popular paper goods company, MaeMae Paperie, her creations have received top accolades from the biggest magazines in the bridal world including Martha Stewart Wedding, Southern Weddings, and Brides Magazine. Her beautiful and intricate creations are regularly featured on bridal blogs including Style Me Pretty, The Knot, Brooklyn Bride, and Grey Likes Weddings. Her stationery is available for purchase in retailers in 17 states, Washington, D.C., and in Canada and the UK. Did we also happen to mention that she is only 27 years old and operates this internationally respected business all from her home office in Minnesota? Well, she does.
We are so lucky that Megan decided to share the story behind her successful stationery company, and the design process that goes into her lighthearted and lovely paper goods.
Full Name: Megan Gonzalez
Age: 27
Current Title/Company: Owner and lead designer at MaeMae Paperie
Year you founded the company: 2008
Educational background: Bachelors of Fine Art from Biola University in southern California with an Interdisciplinary emphasis—so specific—I know. I mostly studied photography (I originally wanted to be a fashion photographer), and then design.
What was your first job out of college and how did you land that position?
While finishing my last semester of college I started MaeMae Paperie in a student design studio. After designing my own wedding invitations, and with the encouragement and affirmation of my dad, I began to reach out to students at my university asking if they would be interested in hiring me to design their own wedding stationery. I saw it more as a way to make some money before graduation, but instead it evolved into a full-time job. I have been so blessed to have been my own boss ever since.
How did earning a BFA prepare you for launching MaeMae Paperie?
Having studied mediums outside of just designing on the computer adds more richness to the way I approach projects. Often time different techniques or styles used in modern graphic design are imitations of other processes such as paint strokes, screen printing, or assemblage. Knowing the physical actions that take place to create those looks with your own hands allows the work I create in the computer to be more sincere, intentional, and have it's own personality.
Having an art background opens up many doors of creativity. How did you decide to embark on launching your own paper company?
Since I was young I have always loved paper. I still have scraps and tear outs from pamphlets and magazines that I started collecting when I was 10. I love the texture, the stories it can tell, the accessibility and fragility of paper. As I was designing my own wedding stationery, my dad caught a glimpse of what I was working on and said something along the lines of, "Wow! You could make money doing that." Of course when I went to school, I was hoping I would leave with some skills, but it was an affirmation that I will never forget. I began contacting people who attended my university and were listed as "engaged" via good ol' Facebook. I sent them a link to my new MaeMae Paperie blog showcasing the design that sparked my dad's comment and a few student projects. Within a few days I began meeting with fellow students who responded to my little message in the school cafeteria, in their apartments, and on the phone between classes to discuss their wedding stationery. I still am amazed and massively thankful when I think back on my early hustler ways and that it worked out.
As the lead designer of MaeMae Paperie, where do you find inspiration for your card designs?
My largest inspiration for my work is stories—the mood they put you in, the different personalities of characters, and the real and fake places you get to travel to when you hear, read, or participate in stories. When I work with clients, I want to hear their stories and pull out details, styles, and moods that are unique to them. When I create readymade work that is not for clients, I get to create imaginary characters with rich naratives and funny quirks to direct and inspire my creations.
At what point in your career were you able to hire on extra help?
When your business is fueled by your own dreams and filled with fragments of a million different ideas and directions you want to go it is really hard to bring in another person to work alongside because they can't just absorb all of the ways you do things by osmosis—you have to explain everything! I first put out a call for interns in the summer of 2010 after two and half years of working by myself when I had more clients than I could handle on my own. Since then, I have had many wonderful interns and design assistants. Having help has been one of the greatest driving forces to help me define how to set up systems and standards of how things need to be started and finished. No one can help you if the way you approach tasks is different every time.
MaeMae Paperie is regularly featured in wedding magazines, as well as lifestyle publications. Tell us about managing the press, marketing, and spreading the word about MaeMae. How did you know where to begin?
That is something I am actually trying to get better at right now! When I was first starting it was very sink or swim. I had to get my name out and send my work to press sources so people could see what I do and then want to work with me. Those early projects that I submitted to blogs continue to get me new clients! I love the internet!! And Pinterest—hello. Yes! I would say that more than 25% of my current clients found me through an old project that someone pinned. Thankfully, over time all of that marketing and promotion paid off. I have so many clients now that creating takes up all of my time and I don't take time to submit to press. I recently hired Wing Ta from Canary Grey (who took the gorgeous photos in this interview) to photograph my work so I can start to submit new projects to press sources. It's all about tackling the tasks you excel at. Editing photos takes me forever so I never wanted to shoot my work. Wing has taken all the stress out of it and captures exactly what I have always wanted to capture in her photos of my stationery.
What is your design process?
Oh. I could talk about this all day. It is always evolving, being fine tuned, and reevaluated as I myself change. One of the most maddening tasks is starting a project. A blank screen. Now what? While in school we read a book by the choreographer, Twyla Tharp entitled The Creative Habit which is all about how to become systematic in your creative practice. Yes—you are an artist, but it's a job. You can't show up in your PJ's and expect brilliant ideas and vibrant patterns to be in your client's inbox by the end of the day. Twyla's words have been so formative to my design process and they aided me as I created a system that saves me from drowning in that bank screen (and from drowning in my PJ's). I begin by collecting, and then move on to arranging. I collect the stories of my client, images that capture the right mood, lists of ideas we will try during the project, and new illustrations. Then I arrange all of these things by making patterns out of the illustrations, playing with the fonts that reflect the mood of our inspiration images, and creating options that showcase our list of ideas.
Has illustration always been your preferred medium in art?
Previous to MaeMae, my favorite medium was collage. My greatest strength lies in organizing and arranging already existing images, textures, and colors. Since starting MaeMae I have practiced and practiced, tried different tools, different mediums, and really worked on finding my own voice and style through illustration. Recently I have had clients come to me to ask me to work on projects that are solely illustration. The first time it happened I was confused—why would you want me to illustrate something?! There are so many better illustrators! I am currently working on my confidence in this respect, but you even asking if it is my preferred medium is helping me view myself more as an illustrator. 🙂
Who do you have in mind when creating each of your wedding invitation sets?
Of course the client (or my imaginary characters—those rascals are so demanding!), but I would say that (to generalize) most of my wedding stationery clients are women in her late 20's or 30's living in a big city, really busy with her career (which means it is hard to find time to chat on the phone), loves fashion and interior design, and wants a stationery suite that will make her guests text her telling her how much the paper is "so her" and they are going to keep it forever. I create for brides and grooms who want work that gives off a very strong mood without all of the obvious stops.
What elements do you focus on when designing MaeMae Paperie's fine stationery to ensure your paper goods stand out next to all of the competition?
I think what has become signature to MaeMae stationery is mixing and matching patterns, unexpected color combinations, and an illustration that references vintage style with a modern twist.
Why is sending out custom stationery an important aspect of an event or a wedding? What does a wedding invitation say about the event?
Custom stationery is both a gift to your guests showing how much you value them and an indicator of how amazing your event or wedding is going to be. What I love about my clients is they are the people are insanely passionate about custom paper goods and luxe printing. No evites for them.
When creating custom stationery, what is your first piece of advice to clients?
Don't look to other stationery design for your inspiration. Let's create something that is representative of you and details from the event or your relationship.
What is the most important lesson you've learned in building your own company?
Work as hard on your personal life as you do on your business because you're not taking that business into the next life.
What is the highlight of your career thus far?
The precious and lifelong friendships I have made with other creative women because of having MaeMae are my greatest treasures.
What advice would you give to your 23 year-old-self?
For every new project that goes to print, learn one new tastebud-blowing recipe. Put the Ramen down, girl.