Whether it's for a birthday, holiday party, or simply to take a break from the local watering hole, entertaining at home is a sure sign of becoming an adult. A right of passage if you will. A time to officially retire the red plastic cups and break out the glassware. It's a skill that is only fine-tuned with practice. Special touches of decor, pairing food with beverages, serving meals so that they're hot when guests arrive, arranging flowers or candles… these little details might not sound like much, but it ends up being a bit overwhelming when you're trying to get yourself and your place ready for guests. Believe us, we've learned the hard (and frozen food) way.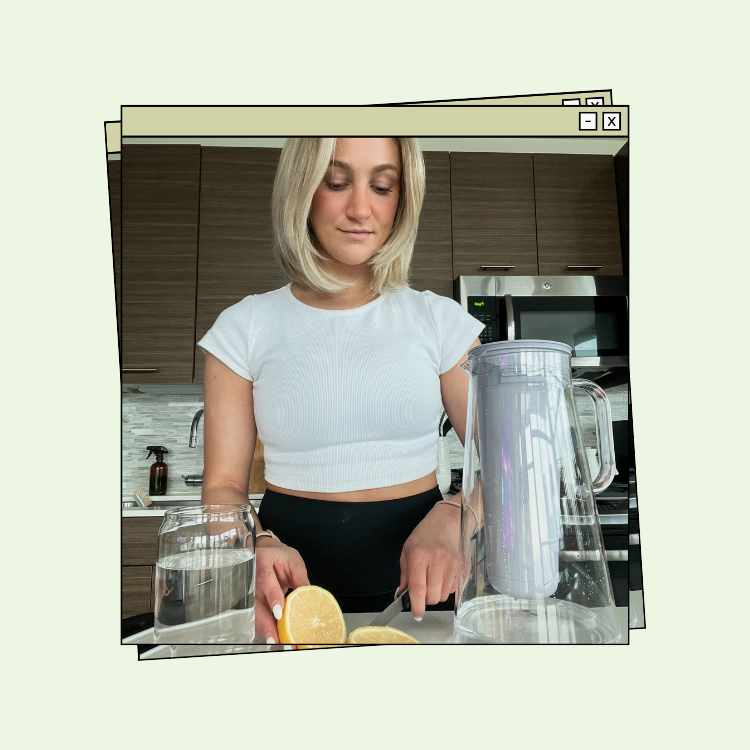 get it right in 2023 and beyond
Inspired by the seasonal recipes of our sponsor, sparkling red wine producer Fizz56, we've styled easy-to-replicate spreads for three common at-home events: the cocktail party, weekend brunch, and girls night in.
To recreate these gatherings at home, you can purchase Fizz56 at Uncorked.com, Wine.com, and in store at Dominick's, Korger, Target, Total Wine, and Mariano's Fresh Market in Illinois.
1. The Cocktail Party
With the holidays just around the corner, cocktail parties are likely filling up many people's calendars. If you're hosting this year, it's no doubt wine and beer are the easy option for what to serve. But it's always nice to offer guests a signature cocktail, as well (preferably one that is easy to make).
DRINK:
The Black Cherry Fizztini
• 1 part black cherry vodka
• 2 parts Fizz56
• 2 lime wedges
Shake black cherry vodka and juice of 2 lime wedges with ice, strain into a chilled martini glass and top with Fizz56. Garnish with a Maraschino cherry at the bottom of the glass and a lime twist.
EAT:
mac n' cheese bites (see recipe below)
risotto mushroom caps
mini chicken tacos
cheese platter with crackers, grapes, and nuts
DECORATE:
Rely on a neutral-colored base: here the focus was white but we brought in touches of black and gold. We used white for the serving dishes, linens, and table but added gold by draping sparkly tape across the length of the runner and placing flowers in this gold vase from Target. It's good to invest in serving pieces and dishware in a neutral color like white or clear glass so that you can use them year-round and for any occasion. Remember to bring in flowers and candlelight for ambiance and an added sense of occasion—both of which are an easy and less expensive way to bring in color.
TIP:
Serve bite-sized food that doesn't require using utensils. That way guests don't have to sit to eat!
2. The Weekend Brunch
Unless you arrive before 8:30am, you know you'll be waiting 45 minutes or longer to eat at most breakfast hot spots on the weekend. And when you finally do get seated, the place is usually loud and the syrup is cold. So next time think about inviting the usual brunch crew over for an equally delicious, far prettier brunch experience.
DRINK:
The Raspberry Fizzlini
• 1 part Vodka
• 5 parts Fizz56
• 1 raspberry
In a chilled champagne flute, add chilled vodka and top with Fizz56. Garnish with a raspberry.
EAT:
pancake and berry skewers
croissants, muffins, scones, and cinnamon rolls
fresh fruit
TIP:
Forget flowers as a centerpiece! Small succulents placed at each spot add color and provide guests a take-away gift! You can even make little name cards and place them in the plant for an added personal touch.
3. Girls Night In
A sacred gathering. One of gluttony and gossip for close friends. A time and place where drinking cocktails, wearing yoga pants, and tearing up while watching the boat scene in My Best Friend's Wedding for the sixteenth time is not only acceptable, it's encouraged. Impress your lady friends with a delicious culinary spread of complex carbohydrates, a stack of your favorite chick flicks, and a cocktail that is equal parts pretty and delicious.
DRINK:
Fizzberry Crush
• 4 parts Gin
• 4 parts Fizz56
• 4 parts strawberry puree
• 2 parts strawberry liqueur
• 1 part lemon juice
• 1 sprig of mint leave
Shake Gin, strawberry puree, strawberry liqueur and lemon juice with ice. Strain into a tall glass filled with crushed ice. Top with Fizz56. Garnish with a lemon twist.
EAT:
chocolate covered pretzels
cupcakes or cookies
veggies and hummus
popcorn or chips
lollipops, M&M's, Starburst, or your favorite candy
TIP:
Combine girls night with crafting—create something for the season, holiday, or just for fun!
Mac n' Cheese Bites Recipe – as seen in the cocktail party
recipe by Boutique Bites
Yield: about 35 circles
Ingredients
½ lb elbow macaroni
2 tablespoons butter
2 tablespoons flour
1.5 cups milk, warm
1 teaspoon salt
6 oz white cheddar, grated
2 drops truffle oil (optional)
Preparation
Preheat oven to 350°. In a large pot of boiling water, cook the macaroni to al dente (approximately 7 minutes). Strain and place on a lightly oiled sheet pan.
While the macaroni is cooking, in a separate pot, melt the butter and whisk in the flour. Continue to whisk over low heat for about 2 minutes, or until golden in color. Add in the hot milk (can heat in the microwave or in a separate pot on the stovetop), whisking constantly until mixture thickens, about 4 minutes.
Turn off the heat and add the cheddar cheese. Season with salt and truffle oil if desired. Fold in the cooked macaroni. Pour into a casserole dish that is approximately 12"x9." Cover with aluminum foil and bake for 30 minutes.
Remove from the oven and let cool. Refrigerate four hours or until mac and cheese is cold all the way through. Use a 1.5" round ring cutter to cut out circles. May use a larger or smaller ring cutter. Reheat mac and cheese bites in a 350 degree oven until warm. Garnish with fresh minced chives. 
This feature was sponsored by Fizz56.