Whether you're a frequent scroller on Instagram or TikTok or you're only on social media to stalk your exes or brag to your family about your amazing adventures, you've probably heard about "that girl" by now. I'm sure you've seen 30-second reels of "that girl" waking up early, making her bed, and drinking green juice, all before strapping on ankle weights to take a Hot Girl Walk. But "that girl" is not necessarily a person (or a list of wellness trends)—it's more like a feeling: She puts herself first and is relentlessly focused on self-improvement and being her best self. "That girl" is not a TikTok star who posts about salmon and rice bowls or the wellness influencer whose tips are supposed to inspire you but actually make you feel stressed out. "That girl" embodies living your best life and prioritizing your best self. If you're working on becoming your best self, here are eight easy ways you too can be "that girl."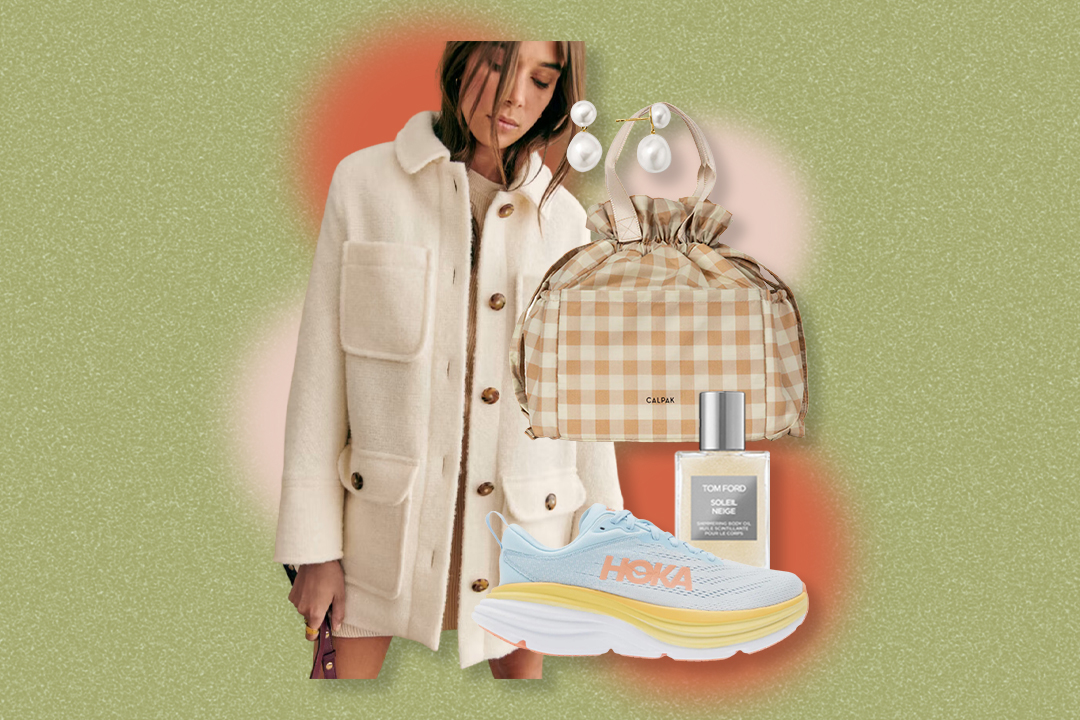 1. Find an extra hour in your day
TikToks may make you believe that "that girl" loves waking up early in the morning, but if a 6 a.m. wake-up call isn't your vibe, don't worry. The goal is to carve out time in your day to focus on yourself and complete some of the other to-dos on this list, but you can reap the benefits of one hour of me-time any time of day. For some, this might mean an in-depth morning or evening routine, while others might use their lunch break for some meditation, going for a walk, or getting chores done. Whenever and however you can fit it in, make time for yourself every day.
2. Check in with yourself
Checking in with yourself is one of those to-do list items that "that girl" gets done during her extra hour in the day. Whether you're using gratitude, manifestation prompts, or just writing whatever comes to mind, journaling is a great way to help uncover subconscious thoughts and feelings or to help acknowledge how you're feeling in the moment. If writing every day feels overwhelming or if you're short on time, try a quick meditation instead. This will also help you make a mind-body connection and is a great way to kick off or reset your day.
3. Move your body every day
Whether it's a walk around your neighborhood, a quick yoga or stretch sesh, or an intense HIIT workout, try to move your body for at least 30 minutes every day. The CDC reports that 150 minutes of moderate-intensity aerobic activity a week is linked to multiple health benefits, and consistent exercise has been shown to improve mood, boost energy, help you sleep, and increase longevity (all benefits that are crucial to living the "that girl" lifestyle). But most importantly? These long-lasting benefits will keep you feeling your best even after the "that girl" trend has passed.
4. Hydrate, hydrate, hydrate
Drink more water. It's easier said than done, but we can all benefit from more hydration in our daily lives (there's a reason "that girl" TikToks always start with a lemon water or green juice). Optimal hydration helps keep our energy levels high, our skin glowing, and our bodies performing at their best. While the amount needed varies from person to person, there are a few recommendations you can try: eight 8-ounce glasses, 1 gallon, 2 liters, or half of your body weight in ounces of water each day. If you're struggling to meet your water intake goals, try these additives to spice things up.
5. Nourish your body
Healthy women focus on what to eat rather than what not to eat; they focus on eating whole foods that make them feel good and nourish their bodies. You can too by adding more natural, unprocessed foods into your diet and making sure more of your meals include some veggies. This will give your body the nutrients and fuel it truly needs to feel its best. That doesn't mean you have to kiss pizza goodbye forever (is that even possible?), but it does mean changing the way you think about foods that benefit your body versus foods that might taste good but leave you feeling sick (looking at you, ice cream).
6. Wear what makes you feel good
If there's anything we learned from Legally Blonde, it's that you can accomplish anything with a good outfit. Elle Woods and "that girl" (perhaps one in the same) both know that the right clothes have the power to help you feel your best and get sh*t done. What makes you feel your best will look different for everyone. Whether it's cargo pants and a graphic tee or power trousers and a blazer, focus on wearing what makes you feel good and ready to tackle the day.
7. Make time for self-improvement
"That girl" knows that being your best self is a lifelong pursuit, and she loves learning and growing. If you want in on the action, check out a self-improvement book on a topic you're interested in to help you feel more motivated and inspired to make healthy changes. Or try subbing your favorite T. Swift albums on repeat with a wellness podcast to learn trade secrets from the experts. The goal is to fit time for self-improvement into your normal routine so that bettering yourself actually becomes a hobby.
8. Pamper yourself regularly
While everything on this list could be considered self-care, you deserve an entire routine dedicated to pampering yourself. But PSA to all my other "that girls" out there: Pampering is not just about a clear complexion or on-fleek manicure (although those are welcomed side effects), and it does not have to be at-home facials or booking regular massages. Spending time to pamper and care for yourself however that looks like to you can also help improve body image, strengthen your body's response to stress, and help you feel more positive overall. But the #1 key to becoming "that girl" is not just taking care of yourself, but also knowing you deserve to.