It's that time of year again — whether you're ringing in 2018 with a sparkly dress and the perfect Instagram caption or staying in with a bottle of rosé and your closest friends, the idea of starting on a clean slate is exciting. Although you don't need a new year to break your old habits, there's something inspiring about the clock striking 12 and the ball dropping in NYC.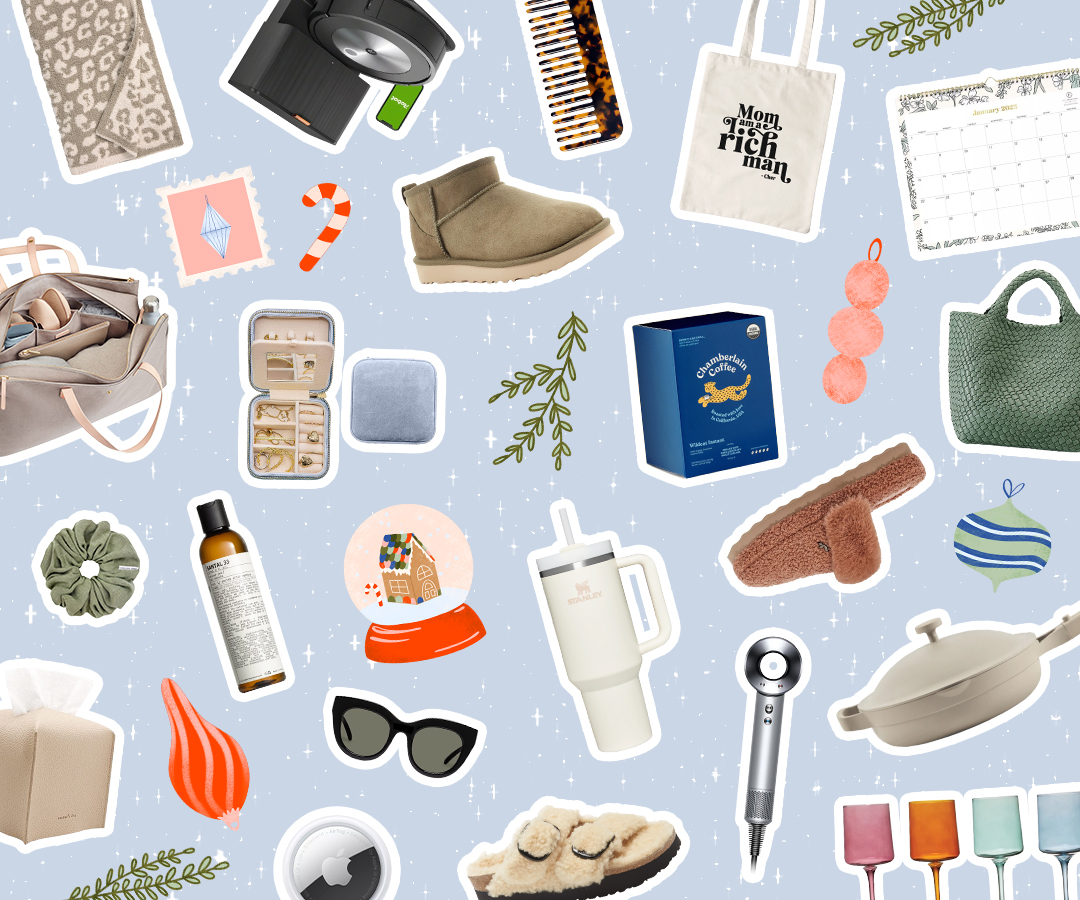 With hundreds of thoughtful gifts, you're sure to find something for everyone on your list!
Aside from the usual promise of becoming healthier, here are 20 resolutions that will start the change you've been hoping for and prove the reasons why this is about to be the best year yet.
1. Forgive someone
Your coworker spilling your embarrassing secret to the entire marketing team was unfortunate — but not unforgivable. By letting go of the negative feelings you harbor for something that happened in the past, you're taking the weight off your chest and giving your mind the peace it deserves in the present.
Source: The Petticoat
2. Take a trip alone
What's more empowering than exploring a city on your own and loving every second of it? Probably nothing, which is exactly why you should do it. Pack your bags and put your bravest face on, because this is about to be a journey that will give you insight to who you are as a person  — while offering you a beautiful view from where you're standing in the city.
Source: @alfredtea
3. Cut back on buying coffee
We know, your $5 coffee is a part of who you are and you're not here to change for anyone. While there's nothing wrong with treating yourself to a vanilla latte, making it a daily routine is why your wallet is suffering and your guilt is spiraling. To avoid this habit, invest in a coffee maker or swap out your coffee altogether — in the end, your happiness doesn't come with a price and your coffee doesn't have to either.
Source: Atlantic Pacific
4. Pick up a new hobby
Actions speak louder than words, and the time to set yours into motion is now. Attend that hot yoga class you walk past every night, sign up for your first nature hike, or become a mentor for children. Take a chance in what interests you now — your happiness will thank you for it later.
5.  Say "no" more often
With work deadlines to meet, another engagement party to attend, and a new puppy to take care of, your schedule is filled with growing responsibilities. In reality, it's impossible to take on the world — and it's detrimental to keep attempting to. Avoid sacrificing your mental health this year by saying "no" more, because making things easier for others shouldn't always mean making it harder for yourself.
Source: Aimée Mazzenga for The Everygirl
6. Stop using the snooze button
Start 2018 off right by waking up in time for it — literally. Regardless of what your morning routine is, break your habit of snoozing and discover what it feels like to not skip breakfast in the morning (#adulting). By getting out of bed the first time your alarm goes off, you'll give yourself more time to enjoy the morning and set the tone for the rest of the day.
7. Stay informed with the news
Knowledge is power, and staying informed is a great way to gain insight to the world and hold conversations with others. Listen to the radio, turn on the news, scroll through a news website, and don't be surprised when you become the more cultured (and confident) version of yourself.
Source: @hayet.rida
8. Let go of toxic people
From the friend who constantly makes you feel bad for not texting her daily to the one who is never truly happy for your accomplishments, there are some people who overwhelm you more than others. As hurtful as this reality may be, sometimes the only way to keep your head up is by letting go of those who weigh you down. In the end, the people in our lives aren't guaranteed and their memories aren't any less special if they're not in our future.
Source: Peas and Crayons
9. Make your lunch every day
Say goodbye to your usual $10 cobb salad and put in the extra effort to bring your lunch to work this year. Before you blame your busy schedule for why you can't accomplish this, keep in mind that it's crucial to prepare your meals beforehand to save yourself the time and your bank account the money.
10. Call your parents more
Life happens quickly — take a moment from the chaos to check on your loved ones. Although you don't have to participate in a two-hour phone conversation with your mom about how you don't have a boyfriend (but remember to put on sunscreen daily), your effort to stay in touch will be enough to remind you of what's important and reground you with everything else.
Source: Hello Fashion
11. Practice better time management
Although you could've finished your assignment a day ago, you had to listen to your best friend's update from the past weekend and make it to brunch the next day (obviously). While you can't control the events in your life, make it a goal to choose which are important — and be aware of yourself enough to prioritize them.
Source: hellarama
12. Read more books
Switch out your habit of reaching for the remote control after a long day and cozy up with a book instead. Whether it's a young adult novel or a classic murder mystery, grab a mug of hot chocolate and let your mind get lost in a story and your imagination run free because of it.
13. Don't use your phone before bed
As a society with our phones constantly turned on, it's challenging for our minds to turn off. Despite the fact that it's nice to tag your best friends in videos before bed, it becomes nightmarish when it's 2:03am and you're still watching reaction videos of babies trying new foods. In order to stop losing sleep to social media, charge your phone away from your bed or control your use of it. Don't worry, you don't have insomnia — you just have the internet.
Source: @camillestyles
14. Learn a new skill
In addition to gaining knowledge of the world, it's also valuable to gain skills as a person. Maybe it's the promise to yourself to (finally) learn to cook something other than pasta or the wish to learn to use that creative program for work. Regardless of what you decide to do, be open to your potential and be patient to the possibilities that could come from them.
15. Talk to people who are unlike you
People are different and that's what makes them worth it — engage with those you wouldn't naturally speak to. Whether it's your cousin who runs a dog walking business or an expecting mother you made conversation with while standing in line, your ability to be open to those around you will expose you to various mindsets and inspire you to look deeper into yours.
Source: @lichipan
16. Clean out your email inbox
If you're going to start 2018 on a clean slate, you might as well have a clean inbox — delete the unnecessary emails. And yes, this also means unsubscribing from the stores you shopped at five years ago as a struggling college student — unless you still shop there (we're not here to judge). Through this action, you'll clean out your email inbox and clear up any unnecessary distractions that are sent to it.
Source: @samuelelkins
17. Spend more time outside
The beauty of the world is all around us, and it's up to you to explore it. Whereas you don't have to camp in the middle of the desert in hopes to see a shooting star, it's a great idea to try and incorporate nature in your daily life. Take a walk after dinner, read a book on the patio, and allow yourself the chance to recharge with a breath of fresh air.
18. Volunteer in your community
Express your kindness this year in the form of helping others by doing deeds such as serving food to the homeless or signing up to walk shelter dogs. With your enthusiasm to lend a hand to those in need, you'll touch the hearts of those you're reaching out to — and feel the appreciation for your own life in the process.
Source: @themoptop
19. Be nicer to yourself
If it's not the fact that you should've known your ex boyfriend would hurt your feelings (again), it's the fact that you parked your (now) towed car in a lot that you knew was off limits. In a world of competition, we seem to be our toughest critics — and it's time to stop. After all, you're doing the best you can and should allow yourself to recognize your triumphs instead of your troubles.
Source: @twentysomethingplus
20. Accept that you're where you're supposed to be
With another year comes the inevitable pressure to look back on your accomplishments — only to realize you haven't landed your dream job or found your soulmate. Although you may not be where you want to be, this doesn't mean you'll never get to where you're supposed to be. Trust in the process — your life is not a straight path and your greatest milestones are coming.
What resolutions are you making for 2018? Tell us in the comments!