It's the season of pumpkin spice and everything nice. As we kiss away those beloved steamy summer months, it's time to welcome the cozy and sweet season of fall. This time of year always brings inevitable fresh starts, endless fun events, and the glorious revival of hot beverages. (See you soon, iced almond milk latte!) We all know soon we will blink and this favorite time of year will be over. It's so easy to say yes to everything. All of these fall traditions can definitely carve a hole in your bank account. To be sure you get all of the fall fun in, here are some fall weekend ideas that will keep your budget happy.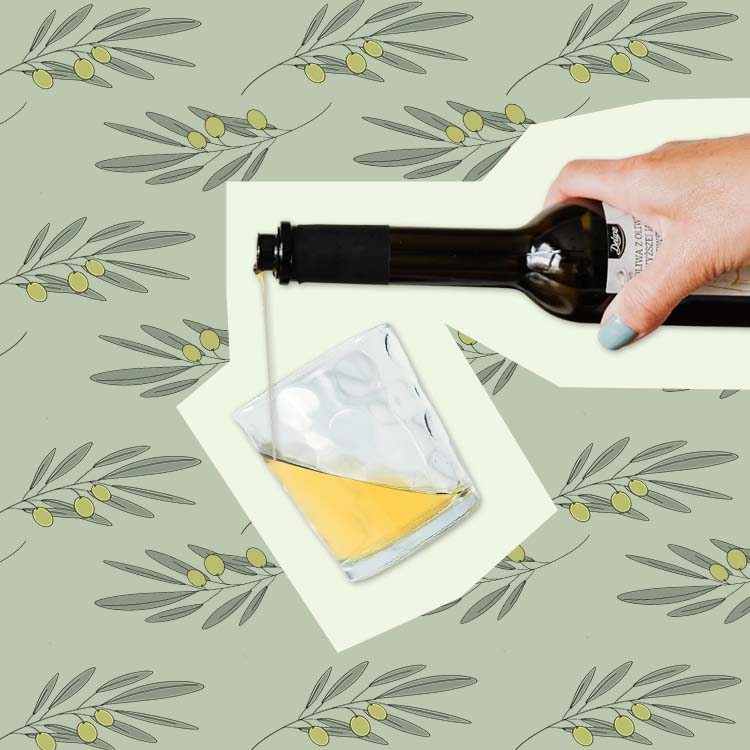 we love olive oil, but this seems a bit too far... or is it?
Stroll Through a Local Craft Fair or Neighborhood Festival
Fall is the season that seems to bring a beautiful energy throughout every neighborhood. See what local festivals, craft fairs, or street parties may be happening in your town. Many of these events are free to enter, usually selling fall snacks, crafty projects, or fun events with all proceeds going toward whatever the fundraiser may be. It's a great chance to spend a day outdoors, support your local causes, and feel festive with the community around you!
Host a Carving Contest
Maybe you made it back from a fun-filled day at the pumpkin patch, or you were able to pick up some goodies on your way home from work. Text your friends and get them together to carve pumpkins. This classic tradition can be a great chance to set your phone aside and really get crafty. Have a contest to see which design turns out best.
Once those pumpkins are carved out, be sure to bake the seeds for an added treat.
Source: @stephaniesterjovski
Cuddle Up For a Cozy Fall Movie Night In
This is the perfect time of year to cuddle up with those classic fall flicks that still hold up. Maybe you need a quick date-night solution or want to host a last minute fun friend gathering. Get all of those fluffy blankets out of the linen closet, pop some popcorn, and hit play.
Need a few suggestions to narrow down a film? When Harry Met Sally, Hocus Pocus, Practical Magic, Dracula, and for a sweet throwback It's the Great Pumpkin, Charlie Brown can all be crowd favorites.
Source: Fit Foodie Finds
Bake a Fall-Infused Treat
Have a whole basket of fresh apples from an orchard or local store? You've got yourself the sweetest date night ahead of you! Put your baking skills to the test and bake an apple pie from scratch. You'll definitely be put in the fall mood and will be able to fill that sweet tooth that has been craving those fall flavors all year.
There are so many fall treats you could also give a go at. Pumpkin bread, indoor s'mores, and cider donuts always hit the spot! Get your favorite tunes playing and try something new. Your house will be filled with the smell of autumn — no candles necessary!
Support Your Local Football Team
Nothing says fall like tailgating! Bond with your neighborhood on a Friday night at your local high school's football game. Head to the college stadium one weekend and get in the spirit. It's a great way to show your support for your town and it's always fun to dress in your sports fan gear, grill out with your friends, and cheer on your team. Bring your blanket, thermos of cocoa, and some packets of hand warmers for when the sun goes down.
Source: @annafoushee
Take a Nature Walk
If you are lucky enough to see leaves change during these months, take advantage of them! If you're needing some solitude or just a calm Saturday morning activity, take a light hike through your neighborhood trails. The colors on the trees this season simply can't be beat. Don't let the months go by without taking them in. It's a great chance to get moving, put your mind to rest, and appreciate the nature around you.
For a chance to give back as well, sign up for a local 5K. It's the time of year that nearly every weekend holds a race. Get your sneakers and your layers on, take in the stunning fall sights, and get moving for a cause.
Get Crafty
As those chilly days and evenings hit, going out can seem to be more of a grueling task. When you can't force yourself to get bundled up and hit the town, tackle those fall decor craft projects you've always wanted to try. Whether it's a cute display for your front porch, a photo collage for your hallway, or a fun fall recipe you pinned ages ago. Put on your favorite relaxing playlist, light the pumpkin-scented candle, and get crafty.
Here are some ideas we have pinned for later if you need some inspiration: The Everygirl In The Fall.
Source: @alainakaz
Fall Cleaning
Of course, we love spring cleaning! But, it has been a few months and that means a Saturday cleaning session is ready to be tackled. Time to flip your closet again, pull out the chunky sweaters, and kiss the airy sundresses goodbye for a few months. As you sort through your cold weather clothes from the previous year, set aside those that you know you won't be wearing this season. It's a wonderful time of year to donate clothes — especially warm sweaters and pants — to those in need. Spend a weekend getting re-centered for a new season, and give back at the same time.
What fall weekend ideas are you definitely going to try this year?