Many people claim that the kitchen is the heart of a home. In my oh-so-humble opinion, that is false.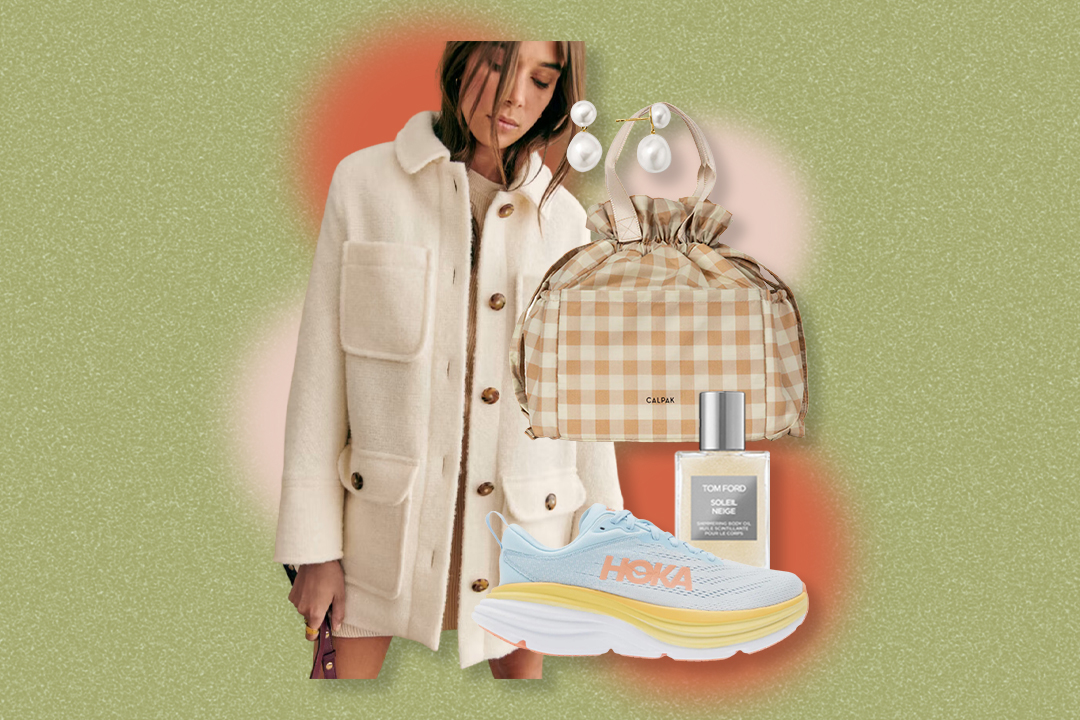 The home's true source of life is, without question, the living room: a space in which we spend hours reading books, taking naps, chatting with roommates, playing board games with family, and (above all else) sinking into the depths of our couches to binge our favorite shows and movies until Netflix asks us if we're still there. So many of us have been living vicariously through the charming and perfectly-curated spaces we just can't get enough of in our beloved rom-coms, shows, and Instagram feeds, so why not bring those delightfully cozy and chic aesthetics into our own lives? We sure as hell deserve to.
Whether you're a fan of bold and eclectic styles, or prefer more neutral, muted spaces laden with texture, get ready to lay your eyes upon the living room of your lounging dreams. The best part? We'll tell you exactly how to get the look for it yourself.
As much as we wish we could have that iconic backdrop of NYC as the main feature of our living room, there are still other ways to give your spaces that sophisticated flair. Want to feel like you're living in your own episode of Gossip Girl? Opt for a sleek fabric couch, gold-toned accessories, a minimal faux floor plant, and a patterned carpet—all while keeping the color scheme a soft neutral shade. Finish it off with some prints inspired by your favorite city for that extra bit of cosmopolitan splendor.
GET THE LOOK

Playing around with light is such a simple but effective way to add depth to a space. If your living room is feeling too bright for those cozy movie nights you've been planning for yourself, try out a darker accent wall to set the tone. Pair that with deeper shades of darker brown (like this mid-century-inspired cane armchair) or jewel tones in your furniture to add in dimension.
GET THE LOOK

A well-curated gallery wall can work wonders for a living room, and is such an easy way to make it feel fancy, while still showcasing your personality. Keeping the frame style cohesive, play around with different colors, sizes, arrangements, patterns, and subjects within the prints. Let the rest of your room remain relatively neutral, and make use of all the soft textures you can find.
GET THE LOOK

Quirky, eclectic, and perfectly embellished, this living room is the perfect bohemian getaway. The colors, patterns, and use of floral elements add lovely little touches of femininity, and we love how the various gold and light wood features throughout tie it all together.
GET THE LOOK

We can so easily visualize a movie night with the whole family lounging on this big, cozy sectional, with all eyes on that beautifully symmetrical built-in shelving. Playing with symmetry and balance is an easy and classic way to make your space feel more put-together, and adding a skewed element or two (like that abstract ceiling light fixture) helps cut through any sort of monotony to add some excitement.
GET THE LOOK

This room looks like it belongs in a modern art museum—and we are so here for it. With the earthy color tones, wooden details, metallic decor pieces, and subtle pop of greenery, it could've been as cool and trendy in the 1960s era as it is now. These elements truly make for a timeless sophistication.
GET THE LOOK

The only thing this living room is missing is a delicious charcuterie board and a few glasses of wine, because if there's any place more fit for a girls' night full of rom-coms, it's 100 percent this one. The color palette of blush pink, white, and gold is pleasing to the senses, and adding in that curvy lamp creates interesting angles and draws your eyes toward the center of the space.
GET THE LOOK

This room's vintage, voguish vibe is so effortless and super easy to replicate. Keeping your furniture simple and monochromatic, place the focus on the details with some chic coffee-table books, a gorgeous candle that gives the room its signature scent, and a bold mirror full of personality.
GET THE LOOK

If you love the subtle contrast of dark and light, this living room serves up those elements incredibly well. The white walls paired with slightly darker furniture, a dark fireplace, and deeper green plants keeps things exciting and bold. The rust-colored accent pillows match the tone of the wooden coffee table and mantel, tying everything together perfectly.
GET THE LOOK

We love the simplicity that this living room brings while still paying attention to detail. Mixing metallics makes it feel slightly art-deco, but still cohesive, and the addition of a bold patterned (but still subdued) rug livens up the area. It's the perfect sort of space to curl up with a warm cup of cocoa and binge-watch the entirety of Gilmore Girls.
GET THE LOOK

This living room is boho, retro, and urban—all at once. The abstract art prints and statement decor pieces create a mod feel, while the rustic furniture combined with lush plants and a patterned rug create a very artsy, Parisian vibe. We could lounge here for hours on end.
GET THE LOOK

If you've been pondering ways to add the slightest touch of color to your living room while still remaining neutral and warm, try out a colorful (yet muted) couch or accent chair. Adding texturally variant, earth-toned accessories around it (like a knitted throw, patterned coffee table, or a plush rug) will also soften the space up and give the whole room a nostalgic and cozy feel.
GET THE LOOK