The first and last time I ever got my makeup done was for my senior prom. It was absolutely flawless all day and night until I finally, after a full 24 hours, washed it all off the morning after (ugh, to be young again). The lasting power of professionally-applied makeup is sorcery, but in all honesty, my makeup that day was heavy AF and nothing like what I was used to wearing. So naturally, I've been doing my own makeup ever since.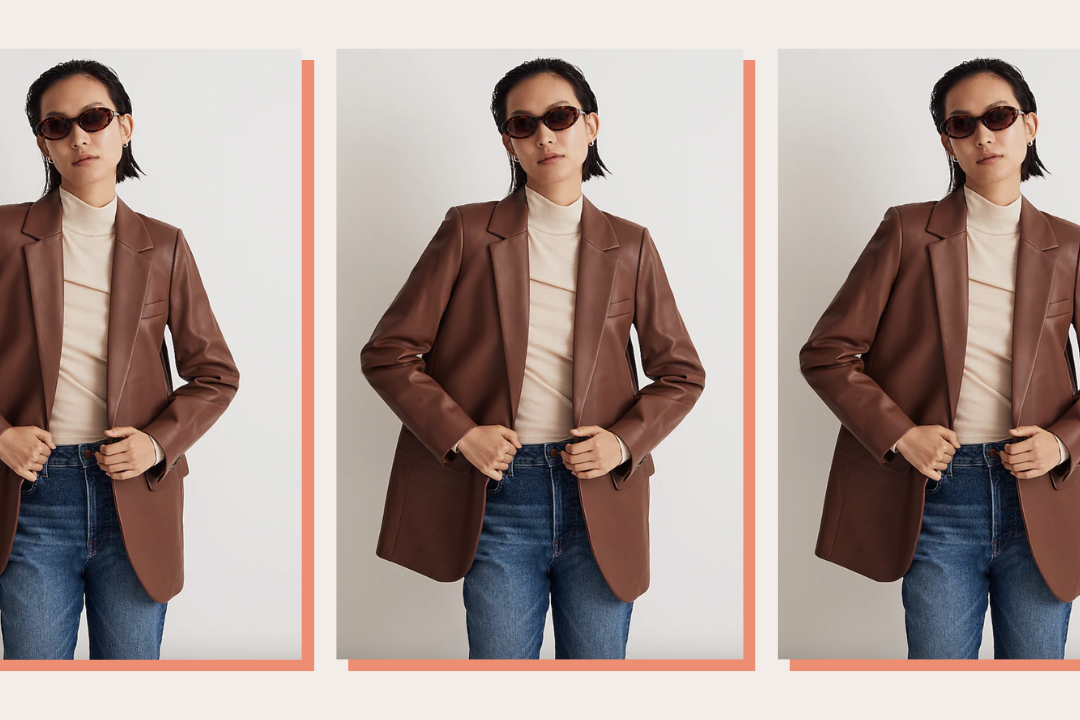 time for your fall wardrobe update!
Apart from a few tricks I learned from my makeup artist that day, everything I know about makeup is what I've learned from Youtube and TikTok—like how to apply mascara without it getting clumpy, where to put cream contour, and how to apply setting powder so my oily skin doesn't make my makeup look like a slip and slide by mid-day. And with those tricks, I've gotten pretty damn good at doing my makeup for big events—so much so that I am taking it upon myself to do my own makeup for my wedding.
I know that to a lot of people, doing your own makeup for such a big event is a colossal undertaking, but I have spent years perfecting the techniques that work for me and my skin, so when it came time to book a makeup artist, I asked myself, "Why would I pay someone to do something that I already trust myself to do?" More than anything, I want to look and feel like myself on my wedding day (read: the exact opposite of my prom makeup), and I'm confident in my ability to achieve a natural, long-lasting, Sofia Richie-esque look all on my own.
My Skin and Foundation Preferences
As a part of this wedding prep, I have been on the hunt for the products that can help me achieve the soft glam look I'm going for, starting with putting some of the most popular foundations to the test.
In a perfect world, my wedding day foundation is lightweight without skimping on coverage—meaning it's comfortable but still covers up the inevitable pre-wedding stress acne I am anticipating—and it's long-wearing so I don't have to worry about touching it up throughout my day.
My skin is acne-prone, sensitive, and oily, which makes finding the perfect foundation that looks good and stays put difficult on any given day—to say the least. The stakes are high, but my determination to rigorously test the best of the best foundations and find the one that I am the most confident wearing while walking down the aisle is unmatched.
Ahead, I'm sharing what I tested, how it went, which one I chose, and why.
1. Haus Labs Triclone Skin Tech Medium Coverage Foundation
Haus Labs Triclone Skin Tech Medium Coverage Foundation is a long-wearing, serum-like, weightless foundation with a natural, luminous finish that reduces redness and protects from environmental stress. It's also hypoallergenic and is $45.
The hype of this foundation is REAL—so much so that Sephora has given it a "Trending on Social" badge—so I knew I had to get my hands on it. When I first applied this foundation, I was absolutely shocked at how lightweight it was. It quickly minimized the redness on my skin as it claims, but since it leans more light than medium coverage, I still need some concealer for some of my dark spots, which is normal for me.
The finish of this foundation really is incredibly natural and blurs imperfections like a dream, but after about three hours, I felt my skin getting greasy and saw the foundation separating and settling into the creases under my eyes, on the sides of my nose, and on my forehead. It claims it doesn't slip, but unfortunately for me, it definitely does—even with a tried-and-true setting powder on top.
The luminous finish of this foundation would be so beautiful on someone whose skin leans drier, but for a combination-oily skin gal like me, I just felt and looked, according to my fiancé, "shiny," so this definitely is not the wedding (or any occasion, for that matter) foundation for me.
2. Estée Lauder Double Wear Stay-in-Place Foundation
The Estée Lauder Double Wear Stay-in-Place Foundation is a 24-hour liquid foundation that is full coverage, oil-free, and provides a matte finish. It's also free of fragrance (which is very important to me) and is $48.
My expectations were very high for this foundation simply because it's been a best-seller for years now. Upon first application, I could tell why so many people say it's great for events. It's very full coverage, so it does a pretty good job hiding the post-acne spots I have on my skin; however, when I use concealer on top for additional coverage, I have to use a light hand since this foundation has a tendency to look a little cakey if I'm not careful.
As far as comfortability goes, I'm glad it doesn't claim to be weightless because it's not, but with that said, it's not uncomfortably heavy either. The matte finish and oil-free formulation are perfect for an oily-skin gal like me because they make this foundation one of the longest-lasting foundations I've ever worn. I don't have to touch up my makeup once when I wear it, which says a lot for someone who always has a setting powder compact in her purse.
Even though this foundation can get cakey, it's all in how you apply it. After a few times wearing it, I nailed down the technique that wouldn't let that happen, and now I consider it one of my favorite products I've ever worn, making it a top runner for my wedding.
3. YSL All Hours Luminous Natural Matte Foundation
The YSL All Hours Luminous Natural Matte Foundation is a breathable, 24-hour full-coverage foundation that provides a luminous matte finish. It is also SPF 30 and is $60.
After hearing from a close friend how much she loves this foundation, I went in with really high hopes for it, and to her excitement, I totally get why she considers it an all-time favorite. Upon first application, I noticed how hydrating it was (thanks to the hyaluronic acid), so I was a little worried that it would make me look too dewy, but it dried down to a beautiful matte, almost satin finish.
I can't speak to its claim of being "heat resistant" because I'm honestly not even sure what that means for a foundation, but it does also claim to be transfer-proof and that is a fact—it does not budge at all, which is massively important on a wedding day when you're hugging anyone and everyone and trying not to get makeup on their shoulders. This foundation is full coverage without being heavy, and luminous without being "shiny," so basically, it combines the benefits of the Haus Labs and the Estée Lauder foundations and leaves their cons at the door to create the most stunning, comfortable formula that lasts.
Even though this is the most expensive foundation I've ever used, it is well worth the price—especially for such a big event. If I didn't already have a maid of honor, this foundation would be my leading lady. I feel super confident my makeup will look exactly how I want it to on my big day with this as my foundation.