The holidays are such a crazy time — full of excitement, anticipation, and merriment… and stress, chaos, and over-scheduling. Danielle Moss, co-founder and editor of The Everygirl, knows this all too well. Danielle loves the holidays — but she's also crazy busy running The Everygirl (and her own blog as well!), so she knows that, unfortunately, the holiday season isn't just a month of laying in your pajamas watching Christmas movies (but wouldn't that be nice?).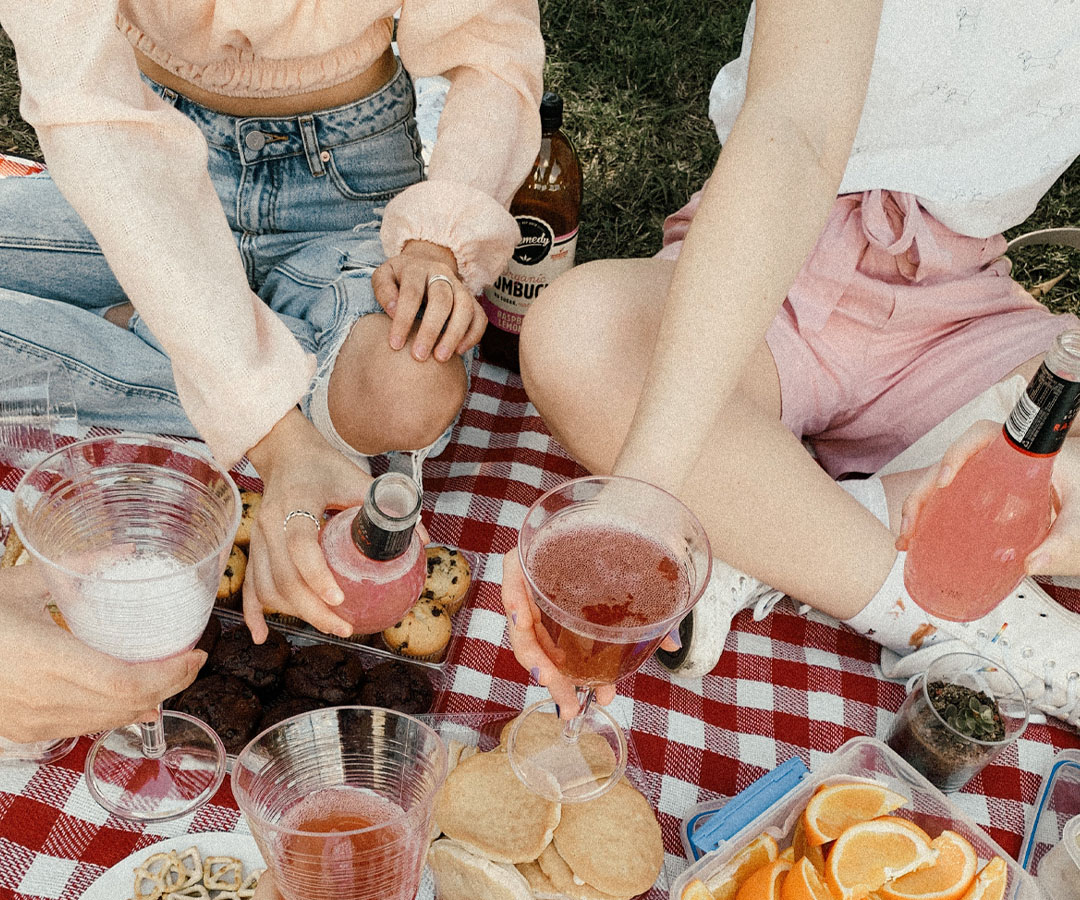 CURRENTLY TRENDING IN /
LIVING
your complete summer shopping guide
Because we all get swept up in our to-do lists, an easy and fun way to feel festive is to make your home feel as cozy and decked out as possible — something that's no easy feat in a small city space. Thankfully for us, Danielle is sharing exactly how she decorated her 950 square feet for the most magical time of the year — and how you can do the same. Read on to learn more about Danielle's favorite holiday traditions, her advice for decorating on a budget, and her words of wisdom for anyone feeling a bit lonely this December.
Name: Danielle Moss, Co-Founder & Editor of The Everygirl
Age: 35
Location: Chicago, IL
Years Lived In: 1
Rent or Own: Own
Square Footage: 950
Your place is so chic! How long have you been in your current home? Tell us about the decorating process.
Thank you! I've lived here for just over a year, but it's my sixth home in Chicago (in seven years) if you can believe it, so I am no stranger to decorating. My husband bought our place while we were still dating in the spring of 2016 and we moved in as soon as construction was (almost) finished in October 2016. I was a little nervous when he showed me this place — even though it was just for him — because we had been talking about a future together. It meant giving up my home office, but we've loved living here.
The decorating process was a little different this time around. When I moved out of my last apartment, my old landlord had plans to turn the unit into an Airbnb and asked if she could buy all of my furniture. I said yes, keeping a few favorite pieces (my bedroom dresser, pedestal table, and a few accessories) but sold everything else. Then there's the fact that I was no longer living alone, and had someone else to consider when decorating our home. It took about 6-7 months, but last Christmas, our living room had a sofa, coffee table, small rug, and a TV stand on a coffee table with wires everywhere, so things feel a lot cozier this year.
How did you and Conor combine your decorating styles? Was it hard to compromise on anything?
This was my first time living with someone so, yes, compromising took place. Turns out I love pillows (he doesn't) and he loves masculine art (I do not). Fortunately, we both want the other person to be happy, so we talk through things and find a common ground. I'm really happy with our place, but it's probably a bit more modern than what I would gone if I lived here solo. I'm excited for our next project together since he's on board for something a little more traditional.
The Entryway



Where do you like to shop for decor?
I've always had at least one unique (vintage) piece in each room, but some favorites are West Elm, Target, CB2, Mark and Graham, Lulu and Georgia, Serena and Lily, and Crate and Barrel.
We love all of the fresh greenery in your space! How did you hang it? Will you do it again next year?
Thank you! I put my greenery up a week early in preparation for this shoot, and, sadly, it dried out really quickly because I didn't get around to misting it. Hanging the garland was actually really easy. We just put some small 1.5" nails in the top corners and center of the doorway and draped the garland across. Just don't forget to spray it with water!
Over the years, I put wreaths in my windows (hooked on the window locks), and this year, added two more to the mirrors in my entry and bedroom. I wouldn't go so far as to decorate my bedroom, but bringing a little something in here was fun. I will definitely hang greenery in the years to come!
The Living Room








We love how you improvised hanging your stockings without a mantle. Do you have any tips for our readers who may live in small apartments (and on a budget)and are not necessarily able to decorate to their heart's desire?
Don't let living in a small space take away your holiday cheer (if you're someone who likes decorating). Last year, I hung stockings off ribbon on a mirror. A tabletop tree, wreath, strand of garland, or some twinkle lights can make your place feel so much more cheery around the holidays. You don't have to do it all, so try picking one or two things that you love.
Start small. When I was in my mid 20s, I bought a few simple white ball ornaments that I still have today and slowly started collecting ornaments over the past 10 years. I'd buy 1-2 each year and try do the same now. I don't have a set budget, but try not to buy more than an ornament or two and some greenery. If you're on a budget or won't be home for Christmas, pick up some simple greenery (a wreath or strand of garland does a lot!), lights, and a candle.
A few years ago, I started skipping tree lots and buying my garland and tree at Home Depot and boxwood wreaths at Trader Joe's. If you're not going to one of those magical tree farms and cutting down your own tree, I can see how this might not seem that festive, but it's not really different than going to a tree lot — and you'll save some money.
What's your go-to way to entertain during the holidays?
I host a big holiday party almost every year (the biggest had about 40 people) and have become pretty good at throwing a party with minimal prep. Choose one or two things to actually make — like a cheeseboard or meatballs — and get everything else ready-made. The frozen section at Trader Joe's has the best appetizers, and they end up being less expensive than all the ingredients you'd need to actually prepare a couple dozen pastry bites.


You've been vocal on your blog about the fact that you have difficult family relationships — which can make the holidays a really hard time. Tell us about how that's impacted your feelings on the holiday season. Do the holidays feel different now that you're married?
Getting a chance to share some of what I've been through (and making others feel less alone) via my blog has given life challenges a purpose. When your family relationships are strained or difficult, the holidays can feel very bittersweet or just plain sad . I've gone home (to Los Angeles) for the holidays once, in 2011, and since then, made the decision to avoid the stress and anxiety, opting to stay in Chicago. I've been really lucky to be able to spend the holidays with friends, but there was that one year I woke up in my apartment — just me and my rescue dog Buddy — on Christmas morning. This might sound a little strange, but I'm glad I had the experience because I got through it and I will never take having family in Chicago for granted.
The holidays feel different now that we're married, but it wasn't an instant fix to the fact that I'm still missing out on certain relationships I really wish I had with my own parents. This is my third Christmas with Conor and the first as a member of his family, and that feels really good.
What would you say to anyone struggling with family relationships this time of year?
Even though it seems like everyone has the best relationships with their parents, know that you are not alone. It can feel so isolating — especially when scrolling through Instagram, so my advice would be to create your own family via your friends. Always welcome them into your home and hope they will do the same for you. If you're facing spending the holidays alone, find a few simple traditions or things that will bring you some cheer.
The Kitchen and Breakfast Nook




Do you have a favorite Christmas movie? Why is it your favorite?
Every year, I have to watch Home Alone (1 and 2), Love Actually, It's a Wonderful Life, While you Were Sleeping, The Holiday, and a handful of others. This is probably a stretch, but While You Were Sleeping really gets me. My family situation is difficult to say the least, so I feel a connection to Lucy (Sandra Bullock) who finds herself alone in Chicago (I mean, come on) on Christmas. She then spends the holiday with someone else's family (which I've done), marries a guy, and honeymoons in Florence (we went to Amalfi and Capri). Like I said, a stretch. But I really really love that movie — so much that I'm watching it while answering these questions.
The Bedroom



What holiday traditions do you hope to make and/or continue with Conor in the coming years?
I've missed fun holiday traditions, so this is something I'm really looking forward to. Conor's mom always got the family matching pajamas for Christmas and I love that tradition, so it's one I want to keep going. I have ideas, but I feel like traditions are something that just sort of happen and continue because they feel right. Making breakfast Christmas morning, buying gifts for children in need (something I do every year), and handing out winter essentials to anyone who needs them.
Overall, what is your favorite thing about celebrating in this home? What are you most grateful for this year?
This is our first home together. It's where Conor asked me to marry him, and where we've shared so many memories the past year. Since we're putting it on the market in a few months, this will likely be our last Christmas in this home, so I just want to enjoy it.
The Bathroom
SHOP DANIELLE'S HOME // PRODUCT SOURCE LIST
Paint Color
the entire home is Farrow and Ball's Wevet
Entryway
chandelier, Lamps Plus
frames, West Elm
cabinet, vintage
mirror, Anthropologie
art, Artfully Walls
bust, Vintage
rug, South Loop Loft
ribbon, Target
silver ball garland, CB2
stockings, Williams-Sonoma
Living Room
sofas, Interior Define x The Everygirl Caitlin sofa (in narwahl velvet)
curtains, West Elm
pillows, Susan Connor, RH, Serena & Lily
pom throw, Nordstrom
rug, Annie Selke's Dash and Albert
coffee Table, RH
chair and ottoman, Rove Concepts
side table, West Elm (old)
holiday candle, Nest
brass "cheers" object, West Elm
coasters, West Elm
lamps, vintage
smoke photograph, CB2
media console, CB2
art above bar, Artfully Walls
bar cart, Vintage
hurricane vases, Crate & Barrel
twinkle lights, CB2
snow globe, similar
magnifying glass, similar
feather tray, similar
santa ornament, Pottery Barn
tree skirt, similar
pom garland, Rejuvenation
ball ornaments, CB2
dog bed, similar
Kitchen and Breakfast Nook
dining table, custom top with vintage base
dining chair, West Elm
lighting, Rejuvenation
bench cushion, Loom Decor
window shade, Loom decor
pillows, Susan Conor and RH
cutting board, Food 52
silver tray, Elsie Green
dishes, West Elm
flatware, West Elm
napkins, Williams Sonoma
cake mold, Williams Sonoma
white pitcher, Target
gold measuring spoons, Williams Sonoma
gold bell, Target
art, Minted
gold tray, West Elm
hot chocolate, Williams Sonoma
peppermint snow, Williams Sonoma
marshmallows, Williams Sonoma
house mug topper, Williams Sonoma
black pitcher, Target
Bedroom
bed, Restoration Hardware
pillows, Rejuvenation
nightstands, Kathy Kuo
lamps, Lulu & Georgia
bedding, Rejuvenation
basket, Serena and Lily
dresser, Meg Made
mirror, Candelabra
marble tray, Jayson Home
glass shadow box, West Elm
art, Josh Young Designs
curtain hardware, Rejuvenation
curtains, West Elm
light fixture, France and Son
Bathroom
soap, Diptyque
body wash, Jo Malone
shampo, Oribe
conditioner, Oribe
container, CB2