"Hi. I like to decorate my apartment. Over and over again." So begins the post dated June 28th, 2006, the first post ever written by San Francisco blogger Victoria Smith of SFGirlbyBay. Today, 20,000 of us start our mornings with a visit to the now world-popular blog where we're treated to all of Victoria's finds—art, photography, design, shopping tips, and more. Along with tens of thousands of readers, we're thrilled that she decided to take up that new 'hobby' seven years ago.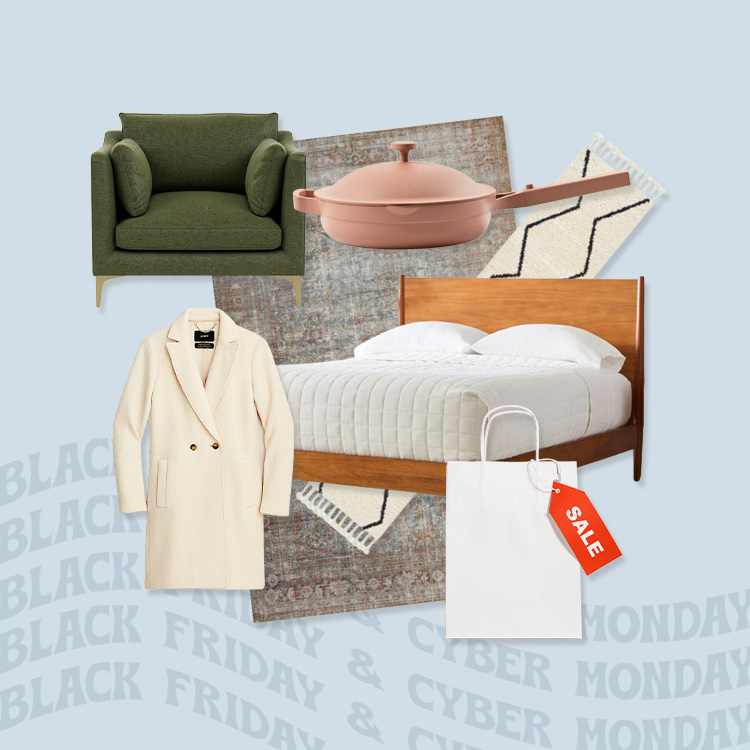 we combed the internet for the best OMG-CANNOT-MISS deals
Prior to running her blog full-time, Victoria held the impressive title of Art Buyer and Creative Resources Director for a San Francisco ad agency. In hopes of having her home featured on one of her favorite design inspiration sites, Apartment Therapy, she created SFGirlbyBay to showcase photos of her apartment—full of flea market finds and alleyway scores that only Victoria could incorporate so seamlessly. It wasn't long before her dream of being published was realized, and people from all corners of the Internet came to know and love her "bohemian modern" style.
We're thrilled to have Victoria here today, sharing the details of her self-described "late-bloomer" career. With one of the most beautiful and successful blogs in the business, Victoria knows first-hand how staying true to yourself will lead to only the best of places.
Full name: Victoria Smith
Age: 53
Current title/company: Publisher/Editor sfgirlbybay.com
Educational background: Associate Arts Degree Interior Design
Year you started your blog: 2006
What was your first job out of college, and how did you land it?
I worked for a Model Home Decorating company—running errands, picking up fabrics at the Design Centers, and helping stage model homes in the Los Angeles area. It was a lot of fun. To be honest, I cannot remember how I got the position. I vaguely remember being referred by one of the instructors at my school, The Interior Designers Guild.
You have an impressive and varied resume, including art buying, producing, and styling. While we all know you as blogger behind SF Girl by Bay, could you tell us a bit about what you were doing before starting your blog?
I've pretty much followed my instincts all along my career path and done a lot of different jobs. After the model home company, I worked at Kriess in their L.A. design showroom, but I'm a horrible sales person. So then I was invited by a friend to work in advertising. I started as a receptionist, and moved my way up to print production and art buying. So my last job was Director of Creative Services at an ad agency, running the creative department and working as an art buyer producing photo shoots for our clients, like Condé Nast Publications for magazines like Domino, Lucky, and Architectural Digest.
You started your blog SF Girl By Bay in 2006, which, in the blog world, is considered the pioneer days. What prompted you to begin blogging? What was your vision for your blog then? Did you know other people who were blogging at the time?
I started in June 2006, as just a hobby at first. It was never meant to be my 'job', or I probably would have thought of a more appropriate name. I've always had a love of photography and interior design, as well as writing, and the blog seemed to encompass everything I was passionate about. I initially started the blog as a way to post photographs of my interiors in the hopes of being featured on one of Apartment Therapy's home tours, and fortunately I was selected. Their blog post on my home tour directed traffic to my blog, and one thing lead to another. Over time, the blog grew a loyal readership and eventually became my full time job. At the time I'd never even heard of blogs, and didn't know anyone that was blogging. My friend had told me about Apartment Therapy—before that I had no clue about any blogs.
What would you tell someone who is thinking about starting a blog but doesn't have the courage to take the jump?
I think it's possible for anyone who's willing to work hard (it's a full time job for sure!) on their blog to succeed. I think you need to have a very clear vision of who your audience is, and share what you're most passionate about, and perhaps most importantly speak from your heart and in your own voice. People like authenticity, so I think you need to find a creative way to share your point of view and be as unique as you can.
I think contributing to other blogs, and being a part of the community is a great way to build your audience. Attend events like Altitude Design Summit, and meet other bloggers. Share your posts and your points of view on twitter and Facebook, and even Pinterest, and people with similar interests will follow.
Around the same time as starting your blog, you opened up an Etsy shop. What were you selling in the shop? What sort of effect did this have on your blog (or visa-versa)?
The blog and the Etsy shop both started as a hobby. I had bought a Keep Calm & Carry On poster on craigslist, and because I was at the time working in print production at an ad agency, I knew the print quality and colors could be much improved upon. And, I thought it would be fun to offer them in more colors, to suit different decors, so since it was a Public Domain image, I reproduced them on high quality recycled paper in a variety of great colors, even black and metallic silver. They became hugely popular, and between my sales on Etsy and the blog advertising sales, I was able to quit my 9-5 job.
When did blogging become a full time job? What was it like to leave your steady job to become your own boss? Did blogging lose any of its luster when it became your paycheck?
I've lived in San Francisco for almost 20 years and worked in Advertising as an Art Buyer for 15 years before becoming a full time blogger and Etsy seller. I'm a late bloomer—I didn't start my blog, or Etsy shop until very late in life. But I love it, and I love being my own boss. That was the ultimate goal. While it's a fun job, advertising also has long hours and a lot of stress. I don't mind working hard, but it's much nicer to be doing it at your own pace and with your own ground rules. Some days it is challenging to come up with original content—it takes a lot of work and a steady stream of creative inspiration. That's the only thing I ever worry about—making the readers happy and want to keep coming back. But it never loses it's luster. I love it.
Readers know you by your self-coined "bohemian modern" aesthetic. Who or what has influenced your style and taste?
I'm not sure, really. I've been decorating my room since I was a little kid. Finding 'treasures' in alleyways and bringing them home (much to my mum's chagrin). I just don't care for decor that doesn't reflect one's personality or is too cookie-cutter or expected. I think designing is an extension of your personality. It's the place I know I feel most comfortable and feeds my creativity. I decorate using elements that really mean something to me or make me feel happy when I see them. If you do that, you'll build a room that you want to spend time in. So, I think if you follow your heart then you'll represent yourself uniquely—since there's only one you!
In 2010, you teamed up with Pinterest to promote their "Pin it Forward" campaign, and Forbes even attributed the site's success to your blog. How did that partnership with Pinterest come about?
Ben Silbermann, one of the Pinterest founders and I met at the Altitude Design Summit two years ago, and he told me about this "little" site he was developing. He was one of those people with so much joy and enthusiasm for life, I just felt compelled to check it out. And when I did, I could instantly see what a unique tool it was, a great device for sharing, and for me, an insanely helpful blogging tool. I use it to pin things I want to share later on the blog, and I design "rooms" or pinboards for myself from pieces that inspire me and that I might like to try down the road. It's the perfect tool for me, because I can never remember my traditional bookmarks, and this is a visual bookmarking tool, so it's all right there in front of me, and it links back to the original site where I discovered it.
So we talked some more about introducing other bloggers to Pinterest and came up with a twist on Blog it Forward, a previous event I'd hosted, and we created Pin it Forward as a way to introduce a whole community of bloggers to this great visual bookmarking tool. For my part of the collaboration, I had a readership to share that was perfectly suited to benefit from what Pinterest had to offer. And Ben had a great platform for bloggers. So, we invited 300 bloggers to each create a Pinboard of what inspired them most, post it on their blogs and then link to, and virtually pass the torch on to the next blogger. Kind of like a blogging chain letter, which was also turned out to be the perfect collaboration for new bloggers hoping to gain more readership and connect with other bloggers. So, I love the sense of community and inspiration that comes from Pinterest.
With roughly 500,000+ visitors per month, you have the traffic that most bloggers dream of. When did you first start to see your readership really grow? Was this a steady growth? If not, tell us what factors you believe contributed to your blog's increasing popularity.
I was approached by a couple of magazines asking to feature my home—one was in Australia called Real Living, and the other was Sunset Magazine. Both those articles gained me a pretty significant jump in followers, but my growth over the years has been pretty slow and steady. It was never instant. I think becoming a part of the blogging community, which I find to be extremely generous and friendly, is an important factor in growth. We all read each other's blogs and root for each other's successes and share them with our own readers, so it's all quite a group effort, I think. Community is always a good thing, and support is invaluable for success. Do your own thing, be unique, but be a part of what else is going on around you and support your fellow bloggers. I guess you could call it Karma, but I think it's just good manners.
As a full-time blogger, much of your success is based on your blog's popularity, which (at least in the beginning) necessitates self-promotion. What are your thoughts regarding self-promoting? Do you have any advice for new bloggers or even business owners who might be shy about tooting their own horn?
I have a love-hate relationship with self-promotion. I really hate doing it, I cringe a little when I tweet a success or bit of PR. But when I do that, I'm probably doing it less for my followers and much more for potential sponsors. They don't know you're out there and that other companies have invested in your business successes if you don't share, so it's kind of a necessary evil for me. I've never felt comfortable tooting my own horn, but I've learned to live with it. Just try and do it as gracefully as possible, and don't do it too much. There is such a thing as overkill, and flaunting your successes can also backfire. Your followers don't want you to rub their faces in it—especially it involves freebies or some perk that was offered you. Follow your gut; you'll know if you're being obnoxious. Or at least I hope you will.
In the last couple of years, there has been lots of talk regarding blogs and advertising: when to post sponsored content, what brands to work with, the affect on the reader experience, etc. What is your take on the subject?
I think that it's really important to listen to your own conscience and trust what you think is a good fit for you as far as sponsors go, because it's so easy to fall into a trap these days of accepting everything that's offered to bloggers. Sponsorships and freebies may seem really tempting, but they're not always in your best interest. Follow your gut instincts—you'll know in your heart if something doesn't feel morally right to you, and you should pass on those kinds of offers. It's more than fine to have sponsors—that's why it's called a business, but be transparent about it. Be honest with yourself and your readers. I turn down much more than I accept. And sometimes I'm turning down a lot of money—but I know in the long run it's for the best. My readers don't want me to write about car insurance or something I wouldn't normally post about it. My general rule is that if I can't make it interesting and if it's not something I would share with the readers anyway, I don't do it.
Your blog posts are notorious for gorgeous photos and unexpected content we can't find anywhere else. What boxes does a topic have to 'check' to be considered SF Girl by Bay worthy? Do you have a process for selecting the best and most interesting content?
I pretty much just know an image that resonates with me (and hopefully with the readers) when I see them. I am usually curating a look, or a color scheme, or a mood I want to convey so I determine which images are right for each post by instinct, really. I get sent images, or I find them and pin them. I follow a lot of photographers and designers on twitter and constantly am sourcing new images. I think being a former Art Buyer helps me have a an eye for image that doesn't look too 'stock' and has an interesting perspective. If someone is submitting images for a product, a white or very simple uncluttered background is always a plus!
Your blog averages between 2-3 new posts per day. How do you manage to continually create fresh material? Is the workload split up amongst yourself and the contributors? Do you rely on a well-planned calendar?
I just am constantly on the lookout for new material 24/7—my life and my job intersect a lot, so if I'm out somewhere running errands for instance, I might see something that makes a great photo, or a shop that I should feature. Or an art opening, or an event I attend can become a blog post. It all overlaps. I have just a handful of contributors —they contribute a post every other week, and they generally have a theme. Danielle Krysa from The Jealous Curator posts about amazing art and how to incorporate it into your home; Si Mazouz from French by Design shares gorgeous home tours from primarily international/European homes; Aaron de Simone from I Heart Luxe is one of the most popular pinners out there and he shares a curation of his favorite pins for the week; and Nathan Michael is a photographer from Chicago who shares great photographic stories from his travels. I try to choose contributors that can offer something I can't and perspectives I think the readers will enjoy. I'm horrible about keeping an Editorial Calendar. I am hoping since I can't seem to remember when a certain themed post is supposed to run, the readers can't remember either. But I do have regular features I do stick to like Tuesday's Girl is all about fashion, and I run Unexpected Guests, Thoughts For a Friday, and Separated at Birth among others.
Walk us through a day in the life of Victoria.
Well, I live in pajamas an awful lot! But lately I am going into Makeshift Society to work, too, so that's been a nice change, and probably a healthy one! I get up most days around 7:30, check the email for anything urgent, and delete a bazillion junk mails. Then, I take my dog to the park for an hour or so. I'm usually back home by 9:30 and jump in with a cup of coffee and check email again. I answer anything urgent, and categorize other emails by priority to get back to later. Then, I blog my posts for the next day. In an ideal world, I'm caught up a week or at least a few days in advance, but lately it's been so busy, I'm posting for the following day. So I am either editing my own photos and adding graphics, or rounding up images from the internet and putting curations together. That could go on all day, and I'm sometimes up until 10 or 11 doing posts. Of course, there's time for tweeting and posting on Facebook in-between. And answering important emails as they pop up. Somewhere in there, I eat. Not very well. I'm working on that. Some days, I go out and photograph a house, or a new shop in the city. Sometimes, and it's rare, I go out for lunch.
You've proclaimed your love for social media time and again. What role do you believe social media plays in blogging? Do you recommend bloggers get plugged into everything available? Pick and choose?
I think you have to do what's most comfortable for you. I happen to love Twitter, because it's quick-witted and to the point. Facebook feels pretty invasive to me, so I generally don't post about my personal life too much there (although I do follow my good friends' lives). I mostly use Facebook to post links to the blog's daily features. I don't think there are any hard and fast rules. It's good to be linked in—it does definitely drive traffic, but I think it should happen organically and can't be too forced, or people will pick up on that. As always, just be yourself.
This past fall, you designed the interiors and managed sponsors for Makeshift Society, a creative "clubhouse" in San Francisco. Tell us about this project. Why was this important to you? Any plans to do more of this in the future?
Makeshift Society is a clubhouse and community shaped by the creativity of its members, who crave camaraderie to fuel their creativity. Working at home is liberating but also leads to an odd paradox of being always connected yet lonely. Makeshift provides creative workers a place to call home and a family to come home to. When Rena Tom, the founder asked if I might like to be involved, I was all in. I admire Rena so much and thought it would be a good experience for me to get out of the house and work around creative people more regularly. I reached out to some of my advertisers and companies I thought might be interested in contributing as sponsors to the decor. People were surprisingly generous and it was really exciting to be able to help Rena build the space and decorate it with nothing but creativity in mind. Rena wants to open Makeshift in other major cities like Brooklyn, so you never know—I'll probably help out with those clubhouses, too.
Best moment of your career so far?
Oh gosh, I'm still surprised people read the blog. It was such a whim, but one that I am proud of. The silliest thing I got a kick out of was being featured underneath one of the those stickers you can peel off in Lucky Magazine. My blog URL was listed underneath, and that just made me smile.
What advice would you give to your 23-year-old self?
Break up with that idiot. He won't be worth it.