Like most kids, I grew up impatiently counting down the days until summer. With a wide-open calendar in front of me, I could dedicate my days to reading for hours, biking until the sun went down, and taking spontaneous swims whenever I craved a cool-off. But as an adult, my anticipation for the June-through-August freedom of summer has shifted to anxieties about the unbearable heat.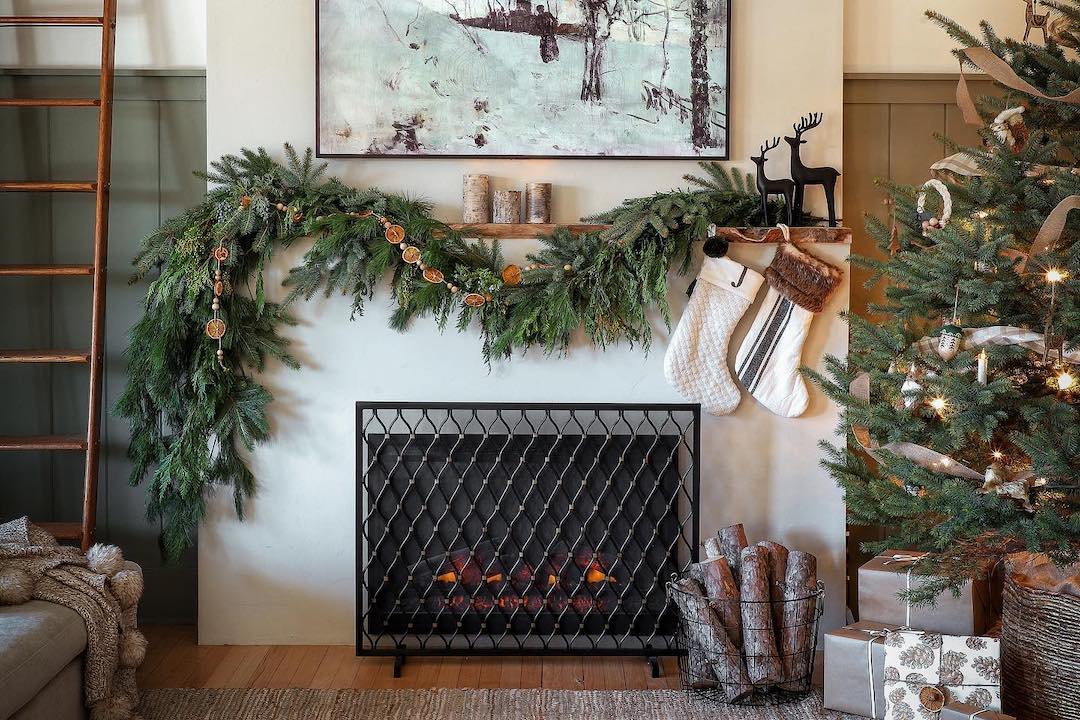 there's still time to deck your halls
I think summer is somehow both the easiest and the most difficult time of year to romanticize your life. With flowers in bloom, picnic season in full swing, and nap dresses taking the place of cozier layers, everything can feel straight out of a Jane Austen novel (add in a wedding or two to seal the deal). But summer can also present a challenge because of the brutally hot days we seem to forget about all year until they arrive in July.
But romanticizing your every day is about finding the beauty in moments that bring both ease and challenge. While aesthetics play a role, creating and leaning into this magic is a gift to yourself; an act of self-love. Yes, we can move through our days tied to the rhythm of routine, but sprinkling in a little whimsy is the perfect antidote to living on autopilot. So, here are 33 ways to embrace your summer self and romanticize your life this season.
1. Experiment with vibrant smoothies. Summer food is all about color. Add beetroot powder to your strawberry sipper, matcha to a classic green bevy, or spirulina to brighten up a simple vanilla smoothie.
2. Transition your wardrobe. Speaking of color, while summer black might be trending, this is the season to go bright and lean into vibrancy with pink, light blue, or minty green. This a reminder to embrace an "anything goes" mindset as your summer affirmation.
3. DIY your decor. Who doesn't love a handmade home? I have my eyes on this minimalist console table or this easy mushroom lamp.
4. Upgrade your supplements routine. If you have a hard time remembering your morning vitamins, set up a supplement station. Source a cute tray, add a bud vase, and perhaps throw in a crystal or two for *vibes*—you'll never forget your supplements again.
5. Become a farmer's market girlie. You know, the girls who make it a point to get out of bed before nine on Sundays, stroll to the market (woven basket in tow) and get the first pick of all the fresh in-season produce. This summer, you can be that girl.
6. Shift your work routine for summertime. Blue skies and sunny days can make writing emails even more of a drag. Head to a coffee shop, co-work with a friend, or if you work from the office, prioritize completing your to-do list on a sun-soaked patio. Vitamin D, y'all!
7. Schedule walking dates with friends. Meet up with a neighbor or set up a regular walking routine with a gal pal. It's the perfect way to get outside, socialize, and get that aforementioned vitamin D.
8. Go camping. If you haven't embraced the great outdoors yet, summer's the best time to make it happen. Gather your friends or go with your partner: pack a tent, car camp, or find a cute cabin near your city. It's the best reset.
9. Visit a small town. If camping isn't your thing, this is especially for you: book a bed and breakfast in a charming town near you, and cue the Hallmark vibes.
10. Redesign your nightstand. If your nightstand has become a dumping ground for all your miscellaneous items, Marie Kondo it up and keep only the essentials. Your journal, your current read, a glass of water, and maybe a small lamp (notice how I didn't say phone? That's part of the nightstand detox too).
11. Embrace summer baking, or work your way through all the no-bake recipes you can find. Lemon poppyseed muffins, strawberry shortcakes, icebox cakes… the possibilities are endless.
12. On a really hot day, take refuge from the heat in a museum. PSA: they're not just for rainy days. Grab a friend, partner, or go by yourself, and soak in the inspiration all around you.
13. Try a summer-proof updo. My long locks and I have a love-hate relationship come summer. Instead of my go-to pony, this is the year I debut a braid crown (slicked-back buns à la The Clean Girl aesthetic work just as well).
14. Shake up your summer lunch. As much as I love the convenience of my meal prep routine, my midday grain bowls need a revamp. Update your lunch with seasonal veggies, a mix of fresh herbs, and a sauce or two to keep things tasty.
15. Reorganize your fridge, because it's about time. Take everything out, throw away or compost the yuck, and give what's left a home. Store leafy herbs in glass jars full of cold water, treat yourself to a cute egg tray, and pick up a pack of those pastel crates everyone's obsessing over to add more seasonal color. Reminder: It should be a joy to open your fridge.
16. Mail postcards, because there's something so summery and vintage about a good ol' fashioned postcard. But you don't have to take a trip to let friends and family know you wish they were here. Spend a Sunday afternoon writing cute little cards and mailing them out.
17. Swap in summer candles. Save your white cypress and fir for next season–now's the time for florals, citrus, and linen scents to make an appearance.
18. Up your lighting game. If there's one romance-your-life rule to live by, it's this: add dimmers to your lights or swap in smart bulbs to play with the ambiance as you please.
19. Take it outside. Whether it's a meal, a reading sesh, or your journaling routine—in the summer, take everything you can outdoors.
20. Grab a go-to hat. Sun protection? Sexy. Whether you're a ball cap gal or sun hats are your coverage of choice, it's the must-have accessory of summer.
21. Find creative ways to stay hydrated. Electrolyte powders? Check. Floral ice cubes? Of course. Your version of the viral Stanley tumbler or security bottle? Always within reach.
22. Perfect your version of the no-make-up-makeup look. When summer hits, forget your foundation. Instead, throw on a primer, some bronzer drops, and whatever else you need to feel like your shiny, sun-kissed self.
23. Go extra with your mani. Everyone might be opting for OPI's Funny Bunny, but in the summer, I like to stand out. Go for lemon-kissed yellow tips, abstract swirly blue, or cosmic vibes instead.
24. Plant your own herbs or veggies. You don't need a backyard to grow a garden. Plant herbs on your windowsill, patio, or balcony, or sign up for a community garden plot in your neighborhood.
25. Freshen up your bed linens. Make weekly washes a routine and swap in cooler sheets for warm summer nights.
26. Make flowers a weekly buy. We have Trader Joe's for a reason—and it's not just the snacks.
27. Judge a book by its cover. That's right, go ahead—it's not a rule, but many of the best recent reads are also the most Instagrammable. Exhibit A, B, and C.
28. Drink your coffee (or tea) from tea cups. Grandmillennial decor is holding strong, and it's making our morning beverage habit all the more enjoyable.
29. Go to the movies by yourself. It's an excellent way to stay cool on those hot days, cosplay as a mysterious cinema girl, and spend quality time with yourself.
30. Make a summer vision board–they're not just for January! Cut up old magazines or take to Pinterest to set the tempo for the months to come. Manifestation isn't a pipe dream; it's an intention for all you want to bring into your life.
31. Schedule a midday movement sesh. It doesn't have to be complicated or long, just a simple way to stretch your body between meetings. A 20-minute yoga flow, a quick walk outdoors, or a lazy girl workout. Think of it as a reset for the afternoon to come.
32. Refresh your content consumption. We love rewatching Ted Lasso as much as the next girl, but find the summer content that will always remind you of this season. Need a new podcast? An inspiring read? Or how about a fresh show?
33. Reinvent your social media self. Take time to reflect on how you want to show up on your accounts. Personal story: I've realized that I'm a bit unhinged and actually funny—and it brings me joy to connect with others by embracing those truths about myself online.