We've all had a summer bucket list. Year after year, we vow to take a dream vacation, have a summer fling, achieve our health goals, read a stack of books, and have that movie-worthy moment with our best friends. Summer is full of the potential for adventures and carefree fun, so of course, we start off the season with the highest of hopes.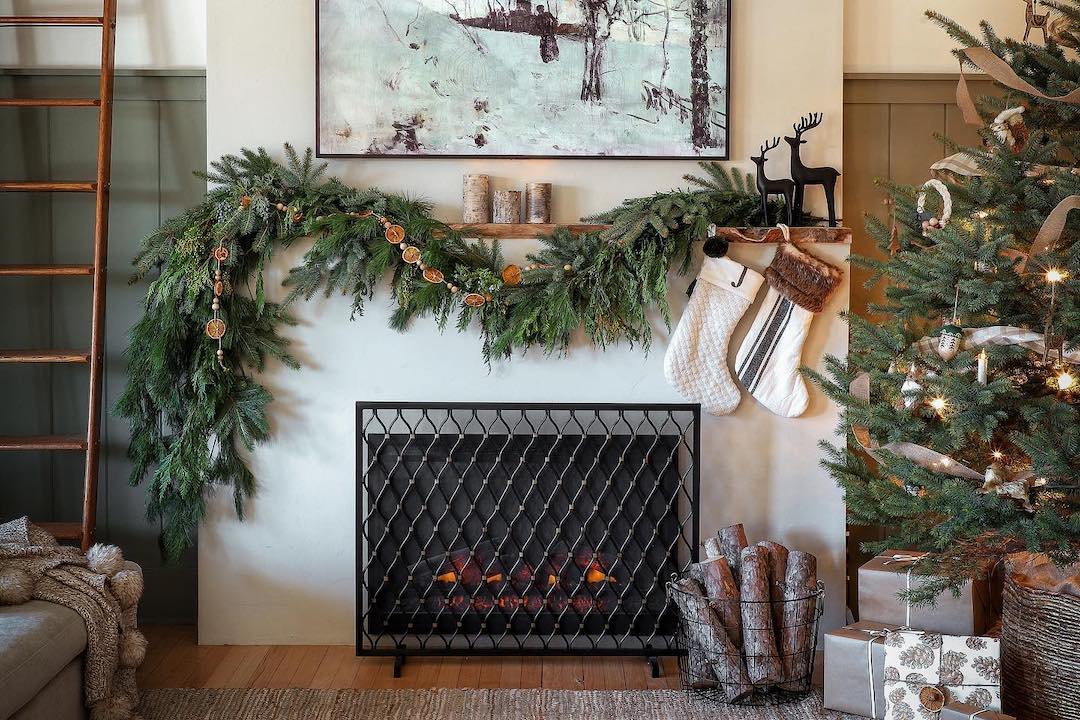 there's still time to deck your halls
Whether or not you feel like you've achieved everything on your bucket list in past years, summer 2023 is going to be different. Thanks to the lessons we learned over the past couple of years, this summer will be the year we don't take even one second for granted. To embrace the carefree summer we all deserve, we've put together a summer bucket list that's full of activities to bring you and your crew closer, help you become your best self, and make the most of what the season has to offer. Grab your favorite shorts, throw on some SPF, and get ready to make this summer the best one yet.
1. Host an outdoor movie marathon
The perfect summer evening? An outdoor movie marathon with your favorite summer films. Maybe your idea of "summer" is beach flicks (like Baywatch), nostalgic high school movies (Grease, anyone?), or films that make you feel like you're back in summer camp (like Dirty Dancing—because the combo of sexy dancing and Patrick Swayze is exactly the camp we've all wanted to go to). You also can't go wrong with travel as a summer movie theme. Opt for movies like Mamma Mia! or Eat Pray Love to take you on a trip around the world from the comfort of your picnic blanket. In the mood for romance? The Last Song, Call Me By Your Name, or any of the Mary-Kate-and-Ashley-on-an-island movies are great options. To host your own backyard movie night, all you'll need is a good projector, a white sheet (or garage door), and some popcorn to snack on.
2. Invest in the perfect summer sandal
After months of wearing fuzzy socks and slippers, it's time for your freshly pedicured toes to see the light. A high-quality summer sandal can make or break the season: Is it sturdy enough to comfortably carry you around the farmers market or county fair? Stylish enough to take you from the pool to drinks on a rooftop? Whether your style is chic leather slides or chunky-soled shoes, invest in a pair you'll want to wear every day and to every occasion. Not sure where to start? Check out some of this year's trendiest sandal styles.
3. Start an at-home herb garden
Summer is the ideal time to start growing your own herbs (you can do it—we believe in you!). Let's talk about why: Growing produce is healthier for you, better for the Earth, and easier on your wallet. It's also just empowering to whip up pesto pasta with basil that you grew yourself. If you have a yard or even just a balcony, start with the basics, like basil, mint, and chives (these herbs are easiest to grow). Then grab a gardening tool set, a cute watering can, and some planters, and get to work. If you're in an apartment or don't have room outdoors, grow fresh herbs in pots on a windowsill or with a smart garden.
4. Take your workout outdoors
If you're stuck in a rut taking the same workout class every day, the summer weather is your solution. Consider taking your HIIT circuits or yoga flow outdoors. Bring your mat and sun salutations to the park, or go for a walk instead of running on the treadmill. Bonus: Thanks to the longer days, warmer weather, and brighter sunlight, we often have the most energy in the summertime, so take this opportunity to up the intensity. Go for a hike to check out the scenery, take a swim instead of lying on the beach, or train for the marathon you've always wanted to run. Just don't forget your SPF!
5. Make your own ice cream
Your first ice cream cone of the season is a rite of passage—it means summer is officially here. I love a Ben & Jerry's moment as much as the next girl, but ice cream is super easy to DIY with ingredients that are actually good for you or high-quality gourmet flavors that will upgrade your basic cone. Whether you choose to churn or freeze or blend ingredients, check out our guide to DIY ice cream (and all our favorite recipes!). And if ice cream sounds too complicated or isn't your thing, popsicles are another great option. Pour fruit juices in molds (like this or this) and freeze for six hours. (Pro tip: If you stick one of these in a glass of prosecco, we'd call you genius).
6. Hike in a national park
Have you been aching to get outside and do some exploring? Yeah, same. Take advantage of the beautiful, serene, and free views the country has to offer. You can plan a road trip and camp at a national park, or visit the state park near you for a few hours to soak in the lovely weather and scenery. Need more motivation besides the fact that hiking is enjoyable (and free)? Being in the great outdoors can boost your mood and ease stress to help you feel happier and more relaxed.
7. Make a beach read book list
Books deserve their own bucket list, so write down all the books you want to get through by summer's end. If you need some inspo, check out the most popular beach reads, books that will make you feel like you're on vacation, or some of our favorite thrillers. Keeping a TBR list will not only help you feel excited for all the beach days and lazy afternoons ahead, but it'll also keep you accountable when you're tempted to ditch the book and endlessly scroll through TikTok. For fun bonus points, get your friends involved and have book swaps throughout the summer to trade books you all want to read.
8. Go on a summery date
After months of hunkering down to escape the cold, it's time to get out and enjoy the warmer weather. If your summer goal is to go on more dates with all those right swipes, schedule walks along the beach or a picnic in the park. If you and your significant other are desperate for some quality time that isn't spent in sweatpants with takeout, surprise them with a movie night outdoors (see point #1), go berry picking, or lay out a blanket and have wine and cheese under the stars. No matter what your relationship status is, make the most of the season by getting creative with summer dates. P.S. Taking your best friend (or yourself!) on a date counts too!
9. "Summer clean" your home
Why should spring have all the fun? Spend a day organizing your junk drawer, donating clothes you don't wear, and optimizing the space in your kitchen. "Summer cleaning" doesn't just have to be the tedious stuff, however. Update your decor for a happier season with colorful accessories, summer-inspired wall art, or of-the-moment trends you're obsessing over on Instagram. Minor changes like fresh flowers in vases or citrus oil in a diffuser can also make a huge difference.
10. Take a day (or two or three) of PTO
Remember growing up (or High School Musical 2) when summer meant vacation? Even though we're grown-ups now and don't get a summer break from work (but isn't that a great idea?), summer serves as the perfect reminder that work should be a part of your life, not your entire life. Take advantage of your PTO, whether that means taking a long weekend to road-trip with your friends or a mental health day to sleep in, get outside, and enjoy life. If all else fails or if PTO isn't an option, turn every weekend into a mini vacation by going on day trips, touring new parts of your city, or checking off items from this bucket list.
11. Master your favorite summer cocktail
Who says an Aperol spritz or spicy margarita is only for restaurants and bars? Take a break from your usual glass of wine and perfect your favorite summer cocktail at home. Not only will a cucumber spritzer or ranch water totally upgrade your basic Tuesday nights at home, but it will also be fun to play around with fresh fruits and herbs in a totally new way. Plus, having your friends over for some homemade French 75s might make you the coolest friend in the group. But be warned: They'll want you to host every girls' night from now on. For some of our favorite summer cocktail (and mocktail) recipes, click here, here, and here.
12. Try out a no-heat hairstyle
Summer is the one season where an easy sundress and less makeup (which is for the best because foundation sweats off in a matter of seconds) is not only acceptable but expected. Your hair goes through hell during summertime thanks to greasy sunscreens, chlorine, and saltwater, and washing more often than usual isn't great for your beloved locks. Save your hair and try out a no-heat hairstyle that will be healthier and help you achieve that "I-woke-up-like-this" look that's signature to the season. Think beachy waves, textured updos, and effortless braids. If only picking a spot for dinner was that easy!
13. Take a day trip
Picture this: you and your best friend, a wide-open road, the convertible top down, and heart-shaped sunglasses (Thelma & Louise style). Even if the convertible is unrealistic and you look much better in round frames than heart-shaped ones, you get the point—summer is meant for road trips. Even if you have nowhere to go, drive around your city with a killer playlist in the background and explore areas you've never been to. After all, isn't it all about the journey, not the destination?
14. Have a wifi-free weekend
One of the best parts of summer is that there's so much to do other than watching TV or staring at your computer screen (winter, we love you, but you forced a lot of us into some major Netflix black holes). Commit to going tech-free for a weekend. Go on a hike, read a book, or spend time with friends without posting it on Instagram. No matter how you choose to spend your tech-free time, make sure to put down your phone, close your laptop, and turn off the TV to enjoy your days off work and off the grid. If you want more of a challenge, consider going on a social media break for an entire week or limiting social media to one half-hour block a day.
15. Find a swimsuit that makes you feel confident
Shopping for a bathing suit that works for you can be daunting and tedious. But a swimsuit is like the pair of jeans in The Sisterhood of the Traveling Pants: As hard as it is to find, the perfect one is magical. As much as it might not feel like it, the right bathing suit for you is out there—we promise! To start your quest, check out our roundup of this year's best swimsuits.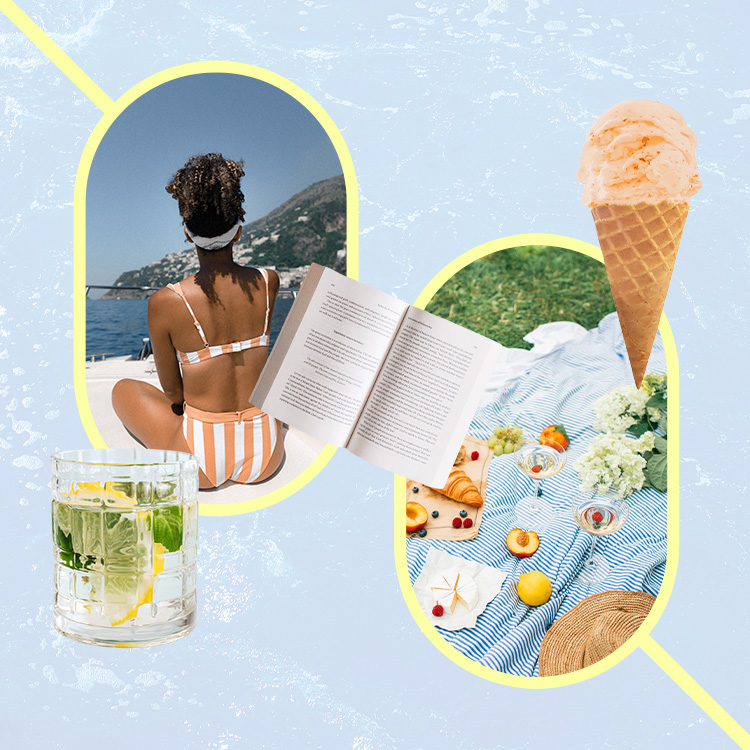 15 Ways To Have Your Healthiest Summer Ever